Scifi horror The Violent Kind comes to DVD this July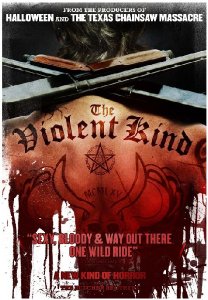 THE VIOLENT KIND
Theatrical release date: 22nd July 2011 DVD Release date: 25th July 2011
Running Time: 87 Minutes DVD RRP: £15.99 / Cert: 18
FROM THE PRODUCERS OF HALLOWEEN AND THE TEXAS CHAINSAW MASSACRE
Troubled Cody, a second-generation member of a violent and notorious Nor-Cal biker gang, rides out with his friends to a party deep within the redwood forest.
At the end of the wild evening, Cody's ex-girlfriend Michelle is discovered wandering aimlessly, covered in blood, screaming and convulsing as if possessed by something unworldly.
Desperately trying to summon help, Cody's plans are ruined by the arrival of another malicious gang, seemingly from the 1950's, who show up "looking for a few kicks…the violent kind.""
However, this ominous Rockabilly gang are not there to pick a fight. They want what's growing inside of Michelle - something evil and powerful - and they will stop at nothing to get it.
THE VIOLENT KIND
mixes the savage artistry of horror, science-fiction and drama to tell a story that will leave you shocked, bemused and exhilarated well after the credits roll.