Neon Genesis 2.22: You Can (Not) Advance released on DVD and Blu-ray 20th June 2011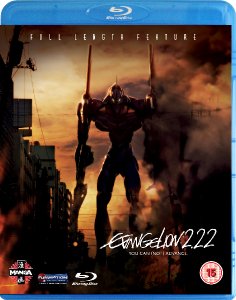 "THIS NEW EVANGELION IS SIMPLY GORGEOUS TO LOOK AT… THE VISUAL WORK IS ABSOLUTELY TOP NOTCH AND A WONDER TO BEHOLD." - TODD BROWN, TWITCH.
The impressive 21st Century makeover of one of the most revered and influential anime series of all time continues apace with the DVD and Blu-ray release of the feature-length
Evangelion: 2.22 You Can (Not) Advance
.
The second of four planned movies based on the original anime series "Neon Genesis Evangelion", this latest instalment introduces new pilots, new Evas and new Angels as the ongoing story involves to new heights of intensity. Written by "Neon Genesis Evangelion" creator
Hideaki Anno
and directed by regular "Evangelion" collaborator
Kazuya Tsurumaki
,
Evangelion: 2.22 You Can (Not) Advance
presents a thrilling and visually spectacular new experience for anime aficionados and fans of all-out giant robot destruction.
In this explosive new story, brutal action and primal emotion clash as a group of young pilots manoeuvre their towering cyborg Eva Units into combat against a deadly and disturbing enemy.
In the battle to prevent the apocalyptic Third Impact, Shinji and Rei were forced to carry humanity's hopes on their shoulders. Now, as the onslaught of the bizarre, monstrous Angels escalates, they find their burden shared by two new Eva pilots, the fiery Asuka and the mysterious Mari. As the young pilots fight desperately to save mankind, they must also struggle to save themselves.
Evangelion: 2.22 You Can (Not) Advance
(cert. 15) will be released on
DVD
(£17.99) and
Blu-ray
(£22.99) by
Manga Entertainment
on
20th June 2011
. The film will also be available in a Collector's Edition Combi Pack (£24.99) containing the Blu-ray, the DVD and a 20-page booklet.