David Leland plays box set Tales Out of School comes to DVD and Blu-ray in July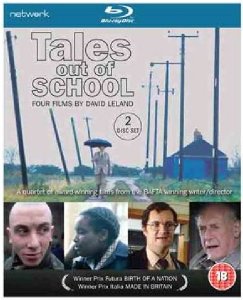 "TALES OUT OF SCHOOL - 4 PLAYS BY DAVID LELAND"
(18)
ARE IN A CLASS OF THEIR OWN ON BLU RAY AND DVD
Four controversial and thought-provoking eighties dramas penned by critically acclaimed actor turned writer/director David Leland make their High Definition debut in TALES OUT OF SCHOOL - 4 PLAYS BY DAVID LELAND
(18)
. They are available to own in a 2-disc set on 4th July 2011, RRP £29.99 in a limited edition Blu Ray case. The title will also be available to buy on DVD, RRP £24.99. The special features in the respective editions will be in High Definition or standard definition.
Originally broadcast on ITV, then Channel 4 and commissioned by the producer of
Scum
(Margaret Matheson), this series of controversial dramas paint a shocking picture of Thatcher's Britain and how individuals within society cope with social breakdown. These provocative dramas were made before Leland would go on to make films like
Mona Lisa
and BAFTA-winning
Wish you Were Here
. Within the current socio-political climate and the ongoing debate about the British education system, Leland's work is just as relevant to a contemporary audience.
Made in Britain
Directed by Alan Clarke, Tim Roth makes his TV debut in Clarke's acclaimed drama as a hate-filled teenage skinhead on a self-destructive campaign destined to lead to permanent incarceration. Winner of the Prix Italia in 1983 for Best Screenplay.
Birth of a Nation
Featuring Jim Broadbent, the play dramatises the conflict between old, authoritarian teaching methods and the more relaxed approach of progressive educationalists. Winner of the Prix Futura.
Flying into the Wind
Graham Crowden stars in a play depicting the battle between parents who want to home-educate their children and the local education authority.
R.H.I.N.O.
The harrowing story of Angela, a disenfranchised young black girl living in 1980s London, and her encounters with a well-meaning but often ineffectual social system.
Special Features:
·
"Digging for Britain"
Writer David Leland and other cast and crew reflect on the making of
Made in Britain (directed by Alan Clarke), the final film in the Tales Out of School quartet.
·
"Twice Told Tales"
Writer David Leland, producer Margaret Matheson and a group of high school pupils
look back at Tales Out of School 30 years on.
·
Image gallery
(including stills of the deleted ending of Made in Britain where Trevor gets locked up)
· 36-page booklet by Alan Clarke biographer David Rolinson.