Reality TV with dogs in Hilarious and Barking Mad arriving on DVD this May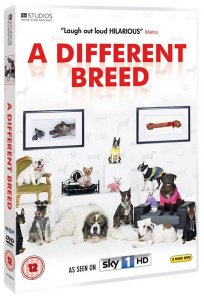 HILARIOUS AND BARKING MAD
A DIFFERENT BREED
AVAILABLE ON DVD FROM 30TH MAY 2011
The team behind the television phenomenon Pineapple Dance Studios proudly present the DVD release of a new barking mad must-see, A Different Breed. Viewers are invited to enter the minds and worlds of some of the craziest, most devoted dog owners in the country when the DVD hits stores from 30th May 2011, courtesy of ITV STUDIOS Home Entertainment.
This zany documentary gives viewers a fly-on-the-wall look into the lives of a colourful array of dog-lovers, as well as the pampered pooches themselves. By turns moving, scandalous, and hilarious, A Different Breed is a unique viewing experience.
Owner of CDPOM, a '
crèche
' for dogs, Louise Wilsher also believes that the spirit of her childhood dog is now living inside her body. Simon Gardner, an ex-chef and punk-poet, shares his ambition of becoming the top professional dog walker. Louise Walker, a chronic canine lover, has reportedly splashed out more than £40,000 on her Yorkshire terrier, Lulu, invites viewers inside her home. Radio presenter, actress and television presenter JoAnne Good will be inviting viewers to lunch with dog expert Anna Webb, and a host of furry friends. These and many more are featured throughout the series.
If you haven't had the chance to see the show that
Metro
describes as "laugh-out-loud hilarious", the DVD release will include the complete series, plus extras. A Different Breed is essential for anyone interested in the crazier side of reality television.
ENDS
Notes to Editor
About ITV STUDIOS Home Entertainment: ITV STUDIOS Home Entertainment is the consumer label within ITV Studios Global Entertainment. It is the company behind one of the UK's most comprehensive film and video collections with over 3000 titles and is a major player in the UK and International Home Entertainment Market. The range includes titles in contemporary and classic film (Shawshank Redemption, Fabulous Baker Boys, Brief Encounter, The Red Shoes), children's titles (Numberjacks, Thunderbirds, Big & Small, Pinky & Perky), drama (Inspector Morse, Cracker, Prime Suspect, Murphy's Law, Lewis, Ultimate Force) sport (Arsenal, and Liverpool football clubs) and comedy (Al Murray The Pub Landlord, Harry Hill's TV Burp). ITV STUDIOS Global Entertainment also owns the video rights for the Rank and ITC film collections which contain over 1500 classic British films.