Apocalypse Now theatrical and Redux coming to Blu-ray in June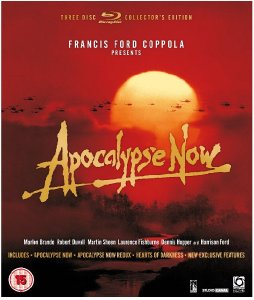 APOCALYPSE NOW


IN CINEMAS NATIONWIDE STARTING MAY 27th

OUT ON BLURAY: JUNE 13

Martin Sheen (TV's
The West Wing
) stars as Army Captain Willard, a troubled man sent on a dangerous top-secret mission into Cambodia to assassinate a rogue Green Beret, Col. Kurtz (Marlon Brando,
The Godfather, On the Waterfront, Last Tango in Paris
), who has barricaded himself in a remote outpost. As Willard ventures deeper and deeper into the wilderness of the jungle, he embarks on a strange journey that leads him to Kurtz - but also forces him to come face to face with the terrifying vision of the heart of darkness in us all.
With an all-star critically acclaimed cast that also includes Robert Duvall (
The Road, Crazy Heart, The Godfather Pt I & II)
, Dennis Hopper (
Easy Rider, Blue Velvet
), Harrison Ford (The
Indiana Jones
series) and Laurence Fishburne (The
Matrix
Trilogy),
APOCALYPSE NOW
so impressed the Cannes jury when shown as only a work in progress that it won the Palme D'Or that year (tied with
Tin Drum
). Vittorio Storaro's stunning cinematography and masterful sound editing from the genius Walter Murch won the film deserved Oscars and were just two of many awards the film has won over the years.
This highly anticipated Blu-ray Disc premieres in 1080P High Definition Widescreen in a 3-Disc
Full Disclosure Edition
. Also for the first time, these movies will be presented for home entertainment audiences in their
original
theatrical aspect ratios (2.35:1
). The 3-Disc
Full Disclosure Edition
will include
Apocalypse Now
and
Apocalypse Now Redux
with more than nine hours of bonus material including new interviews with on-screen and behind-the-scenes talent, as well as the acclaimed making-of feature documentary
Hearts of Darkness: A Filmmaker's Apocalypse
. In addition, the set features a 48-page collectible booklet with a special note from Francis Ford Coppola, never-before-seen archives from the set, behind the scenes photos and more! The
Full Disclosure
Edition
will be packaged in a keepsake case featuring archival poster images designed by Japanese artist Eiko Ishioka.
Extras:

Disc 1:
Apocalypse Now
feature /
Apocalypse Now Redux
feature / Audio commentary by Francis Ford Coppola.
Disc 2:
Interview with John Milius (49 mins) / Interview with Fred Roos (casting
Apocalypse
) (12 mins) / A Conversation with Martin Sheen and Francis Ford Coppola (60 mins) / The Mercury Theatre on Air: Hearts of Darkness Nov 6 1938 (37 mins) / The Hollow Men (17 mins) / Monkey Sampan "Lost Scene" (3 mins) / Additional Scenes (27 mins) / Kurtz Compound Destruction with credits (6 mins) / The Birth of 5.1 sound (6 mins) / Ghost Helicopter Flyover (4 mins) / Apocalypse Now: The Synthesizer Soundtrack by Bob Moog (still images) / A Milion Feet of Film: The Editing of
Apocalypse Now
(18 mins) / The Music of
Apocalypse Now
(15 mins)/ The Sound Design of
Apocalypse Now
(15 mins) / The Final Mix (3 mins) / Apocalypse Then & Now (4 mins) / 2001 Cannes Film Festival: Francis Ford Coppola (39 mins) / PBR Streetgang (4 mins) / The Colour Palette of
Apocalypse Now
(4 mins) / Disc credits.
Disc 3:
Hearts of Darkness
feature / Audio commentary by Francis and Eleanor Coppola / John Milius script excerpt with Francis Ford Coppola notes / Storyboard Collection / Photo Archive: unit photography, Mary Ellen Mark photography / Marketing Archive: original trailer, radio spots, theatrical program, lobby card and press kit, photos.