The 7th series of ITV sitcom The Upper Hand hits DVD this June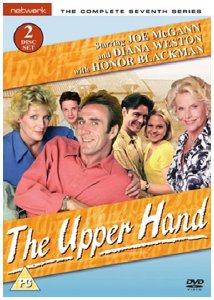 THE UPPER HAND - THE COMPLETE SEVENTH SERIES (PG)
Joe McGann, Diana Weston and Honor Blackman star in the hugely popular ITV sitcom THE UPPER HAND - THE COMPLETE SEVENTH SERIES (PG). The DVD is available to buy on 20th June 2011, RRP £12.99.
When high-flying executive Caroline Wheatley advertised for a live-in home help, Charlie Burrows, a footballer with a career curtailed by injury, was the last person she expected to find applying for the job at her luxurious country home. But Laura, Caroline's alluring, vivacious mother, has always appreciated the presence of a good-looking, resourceful young man, and Charlie, who is also bringing up his daughter alone, has met with the approval of Caroline's young son Tom. And before too long Caroline finds that despite the unconventional circumstances and a few painfully awkward moments, romance blossoms...
This engaging sitcom stars Joe McGann as Charlie and Diana Weston as Caroline, with Avengers siren Honor Blackman as Laura and future Bad Girls star Kellie Bright as Charlie's streetwise daughter, Joanna. The Upper Hand, based on scripts for the hugely popular US series Who's the Boss?, was a major success for Central and ran for seven series. Presented here is the final series, also featuring guest appearances by Millicent Martin, Milton Johns, Louise Jameson and Denis Lill.
***ENDS***
NOTES TO EDITORS
THE UPPER HAND - THE COMPLETE SEVENTH SERIES (PG) is a Network DVD release
Release Date: 20th June 2011
RRP: £12.99
Running Time: 175 minutes approx.
Screen Ratio: 1.33:1 colour
No. of disc: 1
Cat No: 7953534