After Dark Originals come to Blu-Ray and DVD in May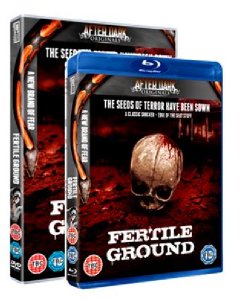 FERTILE GROUND
ON BLU RAY AND DVD 23 MAY 2011
DIRECTED BY
Adam Gierasch
STARRING
Gale Harold, Leisha Hailey, Jami Bassman
THE SEEDS OF TERROR HAVE BEEN SOWN
Fertile Ground
is a chilling-feature from the After Dark Originals brand, coming to
DVD & Blu-ray 23 May
after screening at the After Dark Original: Horrorfest Weekend earlier in the year.
Directed by Adam Gierasch,
Autopsy
(2008),
Night of the Demons (2010)
,
Fertile Ground
was described as one of this year's festival's "darkest bright spots" by Dread Central and perfectly shows off Gierasch's fantastic, and fertile, imagination.
Synopsis:
Emily and Nate Weaver leave the city for the rural comfort of Nate's ancestral home in the country. Once there, Emily is plagued by horrifying visions and haunted by the ghosts inhabiting their isolated new home. When Nate's behaviour undergoes a strange and fearful metamorphous, Emily fears she might be the latest target in a murderous tradition.
· RUN TIME: tbc
· CERT: tbc
· RRP: (DVD) £15.99 (BLU-RAY) £19.99
· BARCODE: (DVD) 5060255690147 (BLU-RAY) 5060255690208
· CAT NO: (DVD)G2P036 (BLU-RAY) G2PB036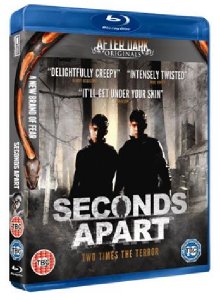 SECONDS APART
ON BLU RAY AND DVD 30 MAY 2011
DIRECTED BY
Antonio Negret
STARRING
Orlando Jones
,
Edmund Entin
,
Gary Entin
TWO TIMES THE TERROR
Seconds Apart
is a new chilling-feature from the After Dark Originals brand, coming to
DVD & Blu-ray 30 May
after screening at the After Dark Original: Horrorfest Weekend earlier in the year.
Starring Orlando Jones (
Magnolia, Evolution
) and directed by Antonia Negret (
Towards Darkness
),
Seconds Apart
also features stellar performances from the two leads, twins Orlando and Edmund Entin.
Synopsis:
Seth and Jonah are murderous twins who share an evil kinship. Damned from the moments of their births, the brothers possess a gruesome talent for telekinesis - a power they use in the most horrific ways imaginable. As their fellow students meet gory fates, the local law enforcement begins to suspect the twins' connection to the depraved murders. What started as a jealous rage escalates into a supernatural showdown - pitting brother against brother, evil against evil.
· RUN TIME: tbc
· CERT: tbc
· RRP: (DVD) £15.99 (BLU-RAY) £19.99
· BARCODE: (DVD) 5060255690154 (BLU-RAY) 5060255690215
· CAT NO: (DVD)G2P037 (BLU-RAY) G2PB037