Swann Security launches the SportsCam - DVR-460 Waterproof Mini Digital Video Camera
Capture and re-live your greatest sporting moments! Durable, hard-hitting camera that captures perfect footage whether cycling across the Sahara or canoeing down the Thames.
Swann Security has announced the DVR-460 SportsCam.
 The SportsCam Mini Video Camera is ideal for filming all sports and recreational activities. Housed in the shockproof and waterproof case the SportsCam is built for the adrenaline junky in all of us. With 640 x 480 video and excellent sound the SportsCam will record your greatest sporting moments, with up to 5 hours recording time -
based on 16GB MicroSD card
.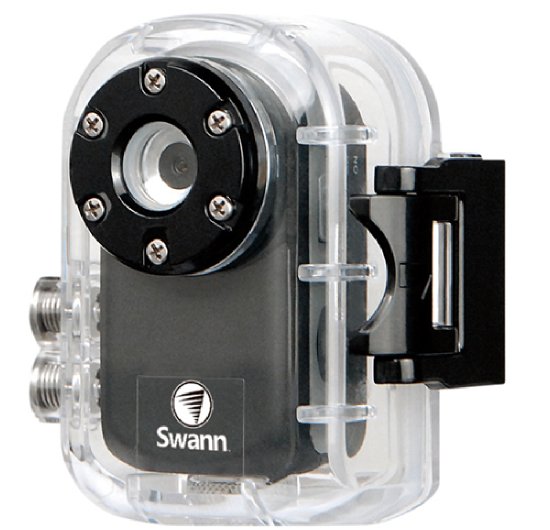 The Swann SportsCam waterproof camcorder
comes with a myriad of mounting options, including Velcro straps, sport-clip, double clipper, and multi-clip.
Upload your videos to your favourite sharing sites such as youtube, facebook and myspace. The tiny SportsCam also doubles as a webcam for use on messenger services like skype, MSN and yahoo. Video is recorded to Micro SD card (not included) and transferred to your PC via USB connection. The inbuilt lithium-ion rechargeable battery is charged via PC USB and has up to 2.5 hours of recording time per charge.  
So what are you waiting for? Get out and capture your greatest sporting moments with the SportsCam - then re-live them over and over again!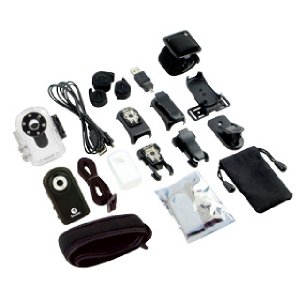 Main Features:

Built for an active life

  
Completely waterproof when in the case - up to 65ft / 20m below the surface. Easy to mount, strap, clip or pin to yourself and other objects with numerous accessories included.
Easy to Record & transfer on your PC

 
Clear picture with 640 x 480 high resolution video and excellent sound. Records AVI video or JPEG photos to MicroSD card (not included) up to 16GB. It's easy and quick to swap cards on the go. Catch more action with approximately 5 hours of video able to be recorded onto a 16GB MicroSD card (not included)
Simple to recharge & use

 
Convenient built-in lithium-ion battery rechargeable off USB with 2.5 hours of life per charge.
Make videos at the push of a button 

 
Video/Photo/Webcam functionality - no dials, gauges, knobs, options or preferences to configure. Turn it on, strap it on, hit record and you're away.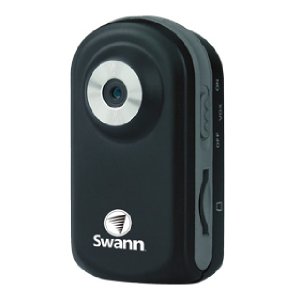 Contents Included:


SportsCam DVR-460
Waterproof Case
Silicon Case
USB Cable & Connector
Velcro Straps x 3
Double-Clipper
Cord, Arm & Head Straps
Pouch
Sports-Clip
Multi-Clip
Waterproof Pin Clip & Case Clip
Multi-Bracket
Velcro for Bracket
Mounting Screws x 2
Instruction Manual & CD
Price & Availability:

The SportsCam is available now at SRP £99.99 inc. Please contact:
selasku[at]ua.moc.nnaws
for additional information.