The fourth series of comedy drama Boon comes to DVD in May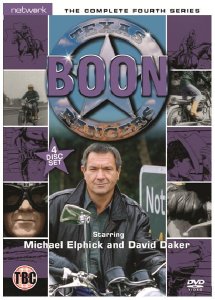 BOON -
THE COMPLETE FOURTH SERIES (12)
On 23rd May 2011, Network will release the eagerly anticipated BOON - THE COMPLETE FOURTH SERIES (12). This 4 - disc set includes all episodes from Series Four, complete and uncut, RRP £39.99.
Ken Boon is back in the saddle for more adventure and humour in this fourth series of the BAFTA-winning hit drama. Michael Elphick is Ken, the former fireman with a heart of gold and David Daker is Harry, his over-ambitious business partner.
The fourth series finds the two moving to Nottingham, where Ken, having handed the running of his motorbike despatch firm over to Rocky (Neil Morrissey -
Men Behaving Badly
), continues to make a living as a private investigator and minder; still full of big ideas, Harry seeks out more new business ventures with widow Helen (Brigit Forsyth -
The Likely Lads
).
Originally screened in 1989, this complete fourth series features a typically distinguished guest cast that includes Kenneth Cranham, Bill Paterson, Martin Clunes, Ian McNeice, Judy Cornwell, Anthony Valentine and even world boxing legend John Conteh!
***
ENDS
***
Notes to Editor


BOON - THE COMPLETE FOURTH SERIES (12)is a Network DVD release.
Release Date: 23rd May 2011
RRP: £39.99
No. of Discs: 4
Running Time: 650 mins (approx.)
Screen Ratio: 1.33:1/colour
Cat No: 7953343