Anime Review Roundup
It's one giant leap for UK Anime
www.anime-on-demand.com
Make a note of that url, as it is the web address of the UK's first, dedicated, streaming anime portal. Yes, finally we have one website where UK fans of anime can gather, and get anime shows to watch on their PC's legally, and simulcast with Japan. It's been happening for a good few years now with sites like Crunchyroll, and Funimation's web portal, but those have in the main been US specific sites. Crunchyroll does a stellar job in catering for UK fans and fans worldwide though, streaming over half their catalogue to us Brits. And while Funimation geo-locked their web portal as soon as they read the fine print on their contracts, they, and other US anime publishers like Nozomi and Bandai do stream us some of their shows on Youtube. But usually, other than Crunchyroll, the good stuff is locked away.
No more, as the French company Kazé has united something of a consortium of UK anime publishers, and in conjunction with the Anime News Network (who have recently upgraded their UK presence), have created the Anime-on-Demand web portal. There will be six shows streaming to the UK as part of the Spring 2011 season, and alongside the simulcasts, there will also be some classic shows making their UK debuts.
Anime-On-Demand will have an annual subscription fee of  £34.99, while this spring will see an early subscriber pass at £9.99 for the April-July season. Non-subscribers will be able to sample the first four episodes in any series on an ad supported Youtube stream, and the intention is to make at least one of the simulcasts available in its entirety for free the same way. Anime-on-Demand will stream content from SD all the way up to 720 resolution. The intention is that as the service beds in, and gains popularity, that more and more content can eventually be opened up to be streamed for free.
Despite the prior lack of dedicated UK streaming services, it is a well served market out there, so it's noteworthy that mention is made of Anime-on-Demand's intention to work with, rather than compete against sites like Crunchyroll, and their first licence announcement is indicative of that.
The first simulcast show will be the superhero anime Tiger and Bunny, starting tonight at 19:00. It's notable that this show is available to US audiences on the Hulu streaming site, but is region locked from us Brits. Therefore AoD is not doubling up on content. And with that 40% or so of Crunchyroll content that is region locked, the noitaminA block that Funimation usually gets and region locks, there's a whole lot of anime that we in the UK can potentially now legally have access to. Anything that expands viewer choice can only be a good thing. The other licence announcement so far is the 2007 occult detective series, Majin Tantei Nogami Neuro. Expect more of the spring lineup to be announced in the next few days and weeks.
Remember that the web address is
www.anime-on-demand.com
You can read the original
press release here
, and the highlights of the
Anime-on-Demand Kitacon panel here
, where more details were announced.  Thanks to UK.Anime.Net for the news.
Manga Delays. Wrong Type Of Anime On The Tracks
Delays always annoy me, but less so when I have a stack of anime review discs reaching to the roof to get through. Hence I'm not altogether peeved that Fulmetal Alchemist Brotherhood: Part 4 has been delayed to June 13th 2011. Actually, when Funimation delayed the US release by 2 months, I expected Manga Entertainment to follow suit. I just didn't think they'd take this long.
They haven't taken as long to announce a delay for the K-On Blu-rays, which will now come to the UK in 2012. Actually, they never really formally announced them, just hinted at their release. Given their experience with Fullmetal Alchemist Brotherhood, it's no surprise that they would rather wait and release them in one boxset, rather than individual volumes as is happening in the US. The UK release of the K-On DVDs is unaffected by this, and will continue to schedule, once they confirm what the actual schedule is…
Also note please that what was originally the Complete Gunslinger Girl Il Teatrino, will now be Gunslinger Girl Il Teatrino The Second Season. The Gunslinger Girl Il Teatrino OVA disc will now be released separately.
The Gantz Live Action Movie Gets Its UK Premiere
I posted the trailer to this film last year, and now it comes to the UK, the live action adaptation of the anime and manga, that had dead people resurrected to fight a secret war against aliens. It's a really cool premise that the anime didn't quite do justice to. Hopefully the film will be better. You can find out at Sci-fi London. Gantz will be getting its UK premiere at The Apollo Piccadilly on Tuesday April 26th at 8:10 pm. It's
UK.Anime.Net with the news
again, and links to the relevant booking sites.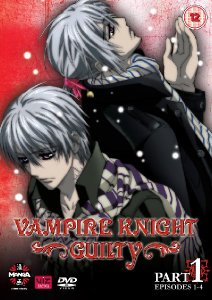 It was a week of continuation last week, although with my first review,
Vampire Knight Guilty: Volume 1
, there hasn't really been enough of a gap to make the resumption of the show feel like a major event. In fact the second series comes so hot on the heels of the initial Vampire Knight series that you barely get enough time to blink. It's a good thing too, as the second series picks up where the first left off, with barely enough time for a small recap. It's still the same moody, elegant, stylish vampire love triangle that so appealed in the first series, but now the series is moodier, more elegant, even more stylish, and the love triangle is heating up rapidly to combustion point.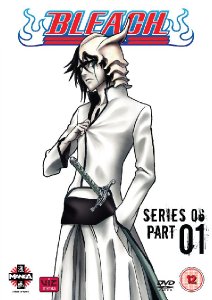 What a difference an arc makes. The Bount arc was tedious, mind-numbing, repetitive nonsense that made me want to headbutt the wall until I was unconscious. Except I kept falling asleep before I had the chance. With
Bleach Season 6: Part 1
, we start the Arrancar arc, and all of a sudden Bleach is interesting again. Ok, there's still a bunch of weird looking people, chasing each other around, hacking at each other with unfeasibly large swords, but this time there is a point, there is story progression, there is character development, and there is wit, charm and comedy. It's what happens when you start adapting the manga again. And I only fell asleep once this time.
Manga Entertainment do the honours again, and they release Vampire Knight Guilty: Volume 1 today, while Bleach Season 6: Part 1 comes out next week on the 11th of April.