QC Cinema documentary Men For Sale arrives in May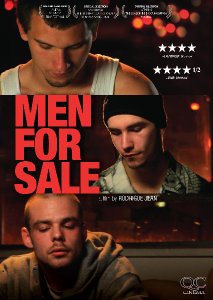 MEN FOR SALE, directed by Rodrigue JEAN is released in the UK on DVD as part of the QC Cinema series on 23 May 2011
SYNOPSIS:
Award-winning filmmaker Rodrigue Jean's reflective film exposes a population of Montreal that society usually prefers to overlook: the young, often drug-addicted male prostitutes who work the city's sex trade industry.
Men for Sale
provides a mesmerising look into the lives of 11 men - most of them in their early 20s - as they attempt to explain how they all arrived at the same profession. With a humanistic eye the film uncovers the vulnerabilities of its subjects as they struggle to affirm their masculinity and make sense of their conflicting sexual practices. Some of them envision themselves escaping the sex trade industry, while others feel like prisoners in a vicious cycle of drug use and prostitution.
By artfully weaving together intimate confessionals and scenes of Montreal's nighttime cityscape, Jean creates a dreamlike vision of a rarely-glimpsed world - one that often goes unnoticed even when in plain sight. The film, which was co-produced with the National Film Board of Canada, covers a difficult subject matter, but Jean handles it with a sensitivity that reveals the human side of those involved and their urgent need for the public's attention.
Men for Sale
is released in the UK on DVD on the 23 May 2011 as part of Bounty Film's

Queer Culture Cinema

series.
EXTRAS:
Trailer
DETAILS:
Label:
BOUNTY FILMS
DVD Catalogue No:
QC88512
DVD Barcode:
5060225885122
DVD RRP:
£15.32
Release Date:
23 May 2011
Certificate:
Exempt
Run Time:
144 min. approx.
Format:
1.78:1 OAR/ Colour
Genre:
Documentary/ Gay Interest
Director:
Rodrigue JEAN
Year:
2008
Country:
Canada
Language:
French
Subtitles:
English