War feature The Thin Red Line comes to Blu-ray in May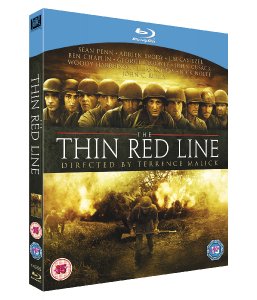 Twentieth Century Fox Home Entertainment is proud to announce
The Thin Red Line
Directed by
Terrence Malick
Available to own for the first time on Blu-ray
from the
16th May 2011
Being released in time for Father's Day, The Thin Red Line would make the perfect gift!
Starring Adrian Brody, George Clooney, John Cusack &
Sean Penn
This new Blu-ray release has 3 new featurettes
Near the beginning of World War 1 a squad of American soldiers become close comrades when they encounter fierce Japanese resistance in one of the war's most barbarous battles in Guadalcanal Island.
A powerful front-line cast including Sean Penn, Nick Nolte, Woody Harrelson and George Clooney - explodes into action in this hauntingly realistic view of military and moral chaos in the pacific during World War 11. Nominated for seven Academy Awards including Best Picture and Best Director (Terrence Malick), The Thin Red Line is an unparalleled 
cinematic masterpiece
Synopsis
In World War II, the outcome of the battle of Guadalcanal will strongly influence the Japanese's advance into the pacific. A group of young soldiers is brought in as a relief for the battle-weary Marine units. The horrors of war forms the soldiers into a tight-knit group, their emotions develop into bonds of love and even family. The reasons for this war get further away as the world for the men gets smaller and smaller until their fighting is for mere survival and the life of the other men with them. In 1943, the first major U.S. offensive of World War II is drawing to a close on the South Pacific island of Guadalcanal. To put an end to this campaign, the United States Army arrives with a full division of troops and equipment, deployed to break the last resistance of the Japanese. The exploits of this Division are seen from a number of perspectives amongst the soldiers; to include a war weary Sergeant, a power hungry Colonel, a Private who has known only desertion and AWOL,and a Company Commander is struggling with his abilities as a leader.
Blu-ray Contents
Commentary by Production Designer Jack Fish, Producer Grant Hill and Cinemaphotographer John Toll
The Thin Red Line: Actor's Perspective
The Editing of the Thin Red Line; Shaping A Terrace Malick Film
Hans Zimmer on the Thin Red Line
8 x Deleted Scenes: Witt and Storm Drunk, Band Volunteers His Squad, Mazzi Drunk, Beads Kills A Japanese Soldier, Witt And The Sniper, Japanese POWs, Bell And Bosche and Fife Leaves
Guadalcanal in Newsreels x 5
Theatrical Trailer
Blu-ray Specifications
RRP Price: £15.99
Barcode: 2170807000
Certificate: 15 TBC
Running time: 100mins
The Thin Red Line
is distributed by Twentieth Century Fox Home Entertainment and is available from all good DVD stockists from 16th May 2011.