New Swann ADW-200 Digital Wireless Security Camera and Digital Receiver gives your home or office additional surveillance with built-in, high-tech wireless technology and a secure, 100% private signal
A cost effective camera and receiver for easy viewing on any TV. Simple to install this new camera provides wireless security for the world we live in.
Swann Security is pleased to announce the new ADW-200 Digital Wireless Security Camera.
The ADW-200 is the latest addition to Swann's industry leading ADW range. The ADW-200 uses a secure digital transmission, meaning that there is zero interference and static from other wireless devices such as Bluetooth, web routers and cordless phones. This ensures the best quality recordings and images possible.
With a secure, wireless transmission up to 50m, and up to 8m night vision, you can be sure not to miss a thing with the ADW-200. The robust, weather resistant metal casing ensures that recording quality does not deteriorate in bad weather, and the built in microphone means that you will always hear, as well as see, what is going on. Set up is easy - simply install the camera in the area you want monitored, plug the receiver in your TV, and once set to the same channel, the camera and the receiver will pair up.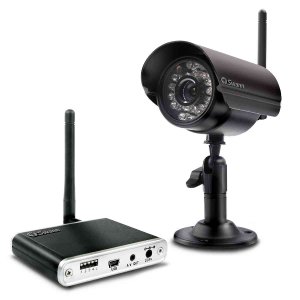 The ADW-200 is a cost effective camera and receiver for easy viewing on any TV. In addition to the ADW-200 Wireless Camera, the pack also includes a digital receiver, RCA cable, two power adapters, mounting screws and plugs, theft deterrent stickers, and the instructions you need for easy set up and installation.
Features:
Clearer picture and better sound with the latest Advanced Digital Security.
Zero interference from Bluetooth, Web routers, Cordless phones and is truly wi-fi friendly.
Up to 165ft (50m) wireless transmission.
Up to 26ft (8m) good night vision.
100% privacy guaranteed from a secure signal.
Connect to a DVR to record incidents on video.
Installing wireless security has never been easier, just plug and play.
Price and Availability:
The new ADW-200 is available from Argos at SRP £139.99 inc. An additional camera is available at £79.99 inc
For current availability and sales information please email
selasku[at]ua.moc.nnaws