Anime Review Roundup
The Japanese Earthquake and the Anime Industry
Japan is currently dealing with the aftermath of the worst natural disaster to hit the country in living memory. Friday's earthquake, the subsequent tsunami, and issues with the nation's nuclear facilities have affected millions of people, left hundreds of thousands homeless, and a death toll which will surely only climb in the coming days and weeks. It seems a rather petty thing to be concerned about entertainment at a time like this, and indeed fans of internet streaming sites will have seen that this week's anime simulcasts have been delayed, as the Japanese broadcasters pre-empt all their programming with rolling news coverage.
The anime fan community have also rallied round, and acted on their mutual concern for those in Japan. The
Crunchyroll
anime streaming site for instance, is now accepting donations for the Japanese Earthquake relief efforts, and they also pledge to match any donation up to $5000. You can also donate locally at sites like
The British Red Cross
and other similar organisations.
Also, the anime and manga industries are built on people, talented and skilled people, and it is surely understandable for fans of anime and manga to be concerned about those who create the entertainment that they enjoy. Japan is the most connected country in the world, and it wasn't long before people were tweeting and facebooking their status. Not everyone reads Japanese though, but fortunately the people at
Anime News Network
do. They have been collating and organising a roll call of voice actors, manga writers, directors, pop singers and other creative forces in the industry, all of whom have connected to the world to assure their fans that they are safe and well.
Our thoughts and prayers go out to all those who have been affected by the disaster, and the people of Japan.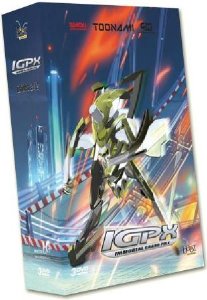 Just the one anime review last week,
IGPX: Immortal Grand Prix - Season 2
. It's the second season of the rather enjoyable if light racing anime, where giant robots compete on a grand prix circuit at speeds approaching 400 miles an hour. While the first season may have been a tough challenge, it was still a meteoric rise to the top for Team Satomi. That's nothing compared to the challenge of staying there though, especially as there is a new rookie team that seems to be even more motivated than they were. Speaking of motivation. If Team Satomi were a rock group, season 2 is where they have their creative differences.
Beez Entertainment released the second boxset of IGPX: Immortal Grand Prix back in 2008.