Extreme weather documentary Savage Skies crashes onto DVD in April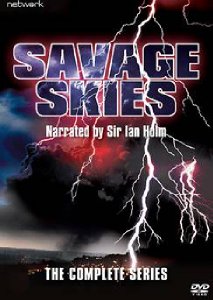 IAN HOLM NARRATES
"SAVAGE SKIES - THE COMPLETE SERIES"
(E)
Do you want to learn more about devastating flash floods? Or how about terrifying tornadoes, Baltic weather temperatures or other natural phenomenon? Then you can find out more in SAVAGE SKIES, the documentary series narrated by legendary actor Ian Holm, available to buy on DVD on 4th April 2011 from all good retailers, RRP £14.99.
From devastating flash floods to lightening bullets, hurricanes to savage hailstorms, tornadoes to temperatures of minus 70 degrees centigrade, this remarkable programme looks at the awe-inspiring power of our weather. The story is told through rare eyewitness footage, visits to the world's most inhospitable locations, interviews with meteorologists, and the recollections of those who have been caught up in deadly natural phenomena and lived to tell the tale.
Originally broadcast on ITV in 1996, SAVAGE SKIES features spectacular NASA footage of lightning 'sprites' and 'jets' seen from outer space, and a report from the National Hurricane Centre in Miami as it monitors the progress of Hurricane Luis across the Atlantic; among featured locations are Oymyakon in Siberia, whose inhabitants live in temperatures that can drop to minus 70 degrees centigrade, Mount Washington in New England, Glencoe in Scotland, and Bombay, where the monsoon is eagerly awaited; there is a look at the coldest British winter of the 20th century, and interviews with people who have cheated death in freezing mountain conditions; we also follow storm chasers, including Richard Horodner, in the American Mid-West.
***ENDS***
Savage Skies (E) is Network DVD release
Release Date: 74h April 2011
RRP: £14.99
Disc: 1
Total Running Time: 200 mins
(approx.)
Screen Ratio: 1.33:1 Colour
Cat. No.: 7953435
Episode listing:
FIRE AND RAIN
Focusing on the crucial role water plays in the weather, this film focuses on several calamitous events: a freak flood which swept through the town of Lynmouth in Devon in 1952, destroying 94 buildings and killing 34 people; a rainstorm which killed 144 people in the Big Thompson Canyon in Colorado in 1976; and a 1993 flood which destroyed 40,000 homes in Valmeyer, Illinois. There is also a report from Bombay, where the monsoon is 40 days late and rain is eagerly awaited.
Original ITV Transmission 19 March 1996
RIDERS ON THE STORM
Tornadoes are especially prevalent in the American Mid-West. This film examines the relationship between tornadoes and lightning, with a look at the massive tornado in April 1991 which devastated the McConnell airbase in Wichita, and NASA footage of lightning seen from outer space - including 'sprites' and 'jets' forming in the air above storms, and lightning striking planes and rockets. Finally, we take to the road with amateur storm chasers in the Mid-West.
Original ITV Transmission 26 March 1996
MONSTERS OF THE DEEP
The extraordinary relationship between the sea and the sky is at its most frightening when it appears in the form of a hurricane; while scientists and lucky survivors recall Hurricane Andrew, which hit Florida in 1992 and resulted in one of the USA's worst natural disasters, the programme also looks at attempts to tame hurricanes, and follows hurricane chaser Richard Horodner. Also featured is the mysterious ocean phenomenon called El Nino, and the Great Storm which hit the UK in 1987.
Original ITV Transmission 2 April 1996
THE WINTER'S TALE
Winter is a season of contradictions. We may long for it to come, yet it can paralyse a continent and shape the course of history. This film visits Oymyakon in the far east of Siberia - the coldest town on earth, whose inhabitants may endure temperatures of minus 70 degrees centigrade - Mount Washington in New England, with an average of 250 inches of snow a year, and the Glencoe region of Scotland. The film also looks at the coldest British winter this century, in 1962-63, and people who have survived appalling mountain blizzards recall their experiences.
Original ITV Transmission 9 April 1996