Anime Review Roundup
Manga Entertainment Snippets
It's been a couple of weeks since my last posting, mainly due to a lack of anime reviews. But that hasn't stopped news from occurring in the interim, and some details that you may want to catch up on include an interview that Manga Entertainment gave for
subtitled online
. As well as going into detail about the state of the UK anime industry, they also let slip some dates and titles and licences, some of which we didn't have until now. Including…
The Time Traveller - The Girl Who Leapt Through Time live-action sequel - out on DVD on 2nd May
Casshern Sins Part 1 on DVD 9th May
Eden of The East Movie #1: The King Of Eden on DVD and Blu-ray on 6th June
High School Of The Dead on two-disc DVD and Blu-ray on 29th August
Redline on DVD and Blu-ray for 18th July
The Melancholy Of Haruhi Suzumiya Season 2 - plus the Haruhi-chan parody episodes - out in June
The Disappearance Of Haruhi Suzumiya movie on DVD and Blu-ray on 25th July
Fumihiko Sori's To (aka 2001 Nights) on Blu-ray and DVD on 1st August.
Production IG's Musashi on 4th July on DVD and Blu-ray.
And at last AKIRA on Blu-ray and re-mastered DVD on 27th June.
Yes! That's Akira! On Blu-ray! In the UK! Don't make me use any more exclamation marks! You can communicate your enthusiasm at Manga Entertainment's new blogosphere webspace at
MangaUK.com
, a place that gathers Manga's Twitter feed, Facebook entries and Youtube content all together.
Beez offer more Legends of Anime
Beez Entertainment have announced their next tranche of titles due for the anime Legends treatment, and I can highly recommend Planetes coming on the 27th of June. That's also the day that they will release a budget collection of Gurren Lagann. One month earlier on the 30th of May, you'll be able to get Code Geass at a bargain price, and quite naturally Code Geass R2 will follow in due course.
MVM delay the Tower of Druaga
E-tailers Play and Amazon are now showing The Tower of Druaga as shipping on the 30th of May, over a month later than was initially scheduled. But, to make up for the slippage, MVM have confirmed that it will be the complete series, both the Aegis of Uruk, and the Sword of Uruk, packaged together in one six disc set, as opposed to just the Aegis of Uruk as was originally planned.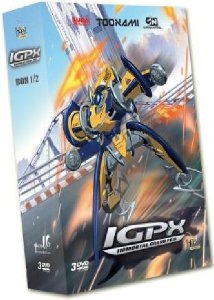 I kicked off my reviewing week by taking a look at the back catalogue and
IGPX: Immortal Grand Prix - Season 1
. It's got giant robots in, which I usually don't like, but the twist is that here they are competing on a racetrack. In 2049, the biggest sport in the world is IGPX racing, where a team of three pilots race robots around a specially constructed race track, one formation lap, one lap of robot combat played out at hundreds of miles an hour, and one lap of pure speed. An unlikely team of young racers, who have a hard enough time being a team, somehow get into the top flight of the championship. The first season follows them on their rookie year. It's a light comic drama that neatly balances racing action and character development, and the first three volumes come packaged in a neat artbox. Click to read more.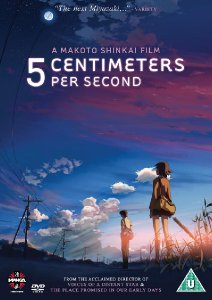 Next up, it is the long awaited, long desired arrival of Makoto Shinkai's
5 Centimetres Per Second
in the UK. Confusions about licensing caused several delays. It all boiled down to the rest of the world wanting the film on Blu-ray, and Japan not wanting to do that. You'll understand why when you see this film, as beautiful and breathtaking an anime as I have ever seen. It's also typical of Makoto Shinkai's storytelling, an exploration of human relationships tested to breaking point by distance. A heart-breaking story to go with heart-aching visuals certainly makes 5 Centimetres Per Second worth the wait.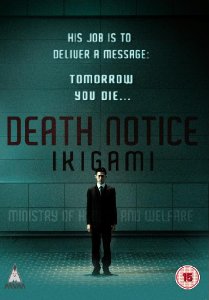 And if live action adaptations of manga are more your thing, then you really ought to check out
Ikigami
, which I reviewed a couple of weeks ago. It's set in a Japan where a draconian law has been enacted to ensure peace and tranquillity, as well as raise productivity and enhance social cohesion. One in a thousand children receive an implant as part of their childhood inoculations. And somewhere in-between their eighteenth and twenty-fifth birthday, that implant activates, killing that person. It's supposed to throw into bold relief the value of life. At age 25, having survived his adolescence, Kengo Fujimoto starts work in the civil service, delivering Ikigami. Ikigami are the letters that inform the unlucky tenth of a percent that their last 24 hours of life are now upon them.
Beez released IGPX: Immortal Grand Prix - Season 1 back in 2008. Manga Entertainment will release 5 Centimetres Per Second on the 14th of March. MVM release Ikigami today.