Reallusion Colour Fashion iPhone Photo App Allows You To Create Your Own Latest Style In Seconds
Reallusion, inc.,
developers of iPhone photo apps
PhotoMakeover
&
10x Camera Tools
announces the arrival of
Colour Fashion
, a new app release to the iTunes App Store that innovates iPhone photo editing with magic hair colour and clothing stylizer. Demo video:
http://www.facebook.com/video/video.php?v=10150093878239765
Reallusion Colour Fashion is an iOS touch-optimized colouring tool that helps you easily re-colour your photos by using a smart colour masking technology. Colour Fashion can deal with subtle regions such as fluffy hair or complicated shapes, all while giving you the flexibility to quickly switch colour over the masked area and generating a smooth colouring results in no time at all.
"There are lots of photo editing tools which allow you to paint and edit your photos. However, you may need to have a steady hand in order to manually trace over the edge and get the job done right. Colour Fashion's tools are designed to easily touch-edit with precision for optimal photo editing on the iPhone," said John C. Martin II, Reallusion VP Product Marketing.
Reallusion Colour Fashion makes colour changing on your iPhone fast, fun and easy! Now you can Mix & Match to create your own fashion style in two simple steps:
1. Roughly paint over the area where you want to apply a colour change. Use the built-in Smart Edge function to help you refine your mask edge.
2. Select any colour you like, adjust the results by using the element sliders, and you're ready to strut in Colour Fashion style.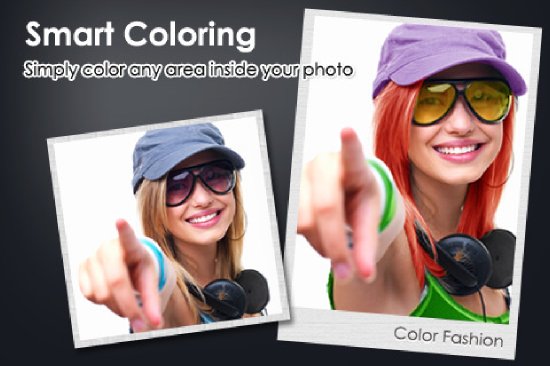 Colour Fashion - Key Features:
Smart Masking
No detailed painting necessary. Colour fashion will automatically find the colour edge for you.
Work with pixel-point accuracy by using two fingers to zoom and edit.
Undo any number of painting strokes with the handy undo-function.
Colour Adjustment
You may colourize any image area, or turn black hair into gold hair by using the Colour Fashion OmniColour technology
Switch between pallets in a single swipe
Use colour Strength to determine the colour strength you wish to use
Use lightness to change the brightness
Use the colour Smoothness to soften the colour edge
Easily adjust the color sliders for infinite combinations
Multiple Area Editing & Fixed Colour
You may fix the colour result, and work on other part of the image
The image quality will be intact, even after multiple colouring processes
Unlimited colour adjustments on a single photo
Shake to clear all work and start over
Export and Sharing
Supports a maximum image resolution on your iDevice
3G: 960x720
3GS: 3-megapixel
iPhone4: 5-megapixel
Pricing & Availability:
Colour Fashion is available now from the iTunes App store for $0.99
http
://
itunes
.
apple
.
com
/
us
/
app
/
color
-
fashion
/
id
415836348?
mt
=8
Special Offer:
As a time limited offer until March 31 2011, Reallusion will give everyone who visits their Facebook page and clicks "Like" a free copy of FaceFilter 2 worth $59.99 !
1. Click
http://www.facebook.com/pages/Reallusion-iPhone-apps/106468386094635?v=wall
or search reallusion iphone on Facebook
2. Click Like.