The fourth season of The Tudors arrives onto DVD and Blu-ray this March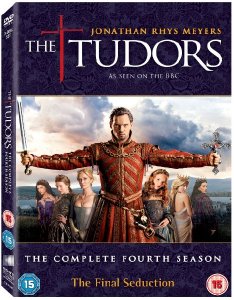 THE TUDORS - THE COMPLETE FOURTH SEASON
Starring Emmy® and Golden Globe® Winner Jonathan Rhys Meyers, Henry Cavill and Special Guest Joely Richardson
Includes 10 Episodes with Bonus Materials
Including
Farewell to the King: Michael Hirst on "The Tudors" Finale.
Available on Blu-ray DiscTM and DVD from 21st March 2011
Enter the sexy and lavish world of The Tudors and get ready for a bodice-ripping finale when Jonathan Rhys Meyers stars for the last time as the ruthless and passionate Henry VIII.
The Tudors - The Complete Fourth Season
is released to buy on Blu-ray and DVD from 21st March 2011, courtesy of Sony Pictures Home Entertainment.
Jonathan Rhys Meyers (
Match Point, Mission: Impossible III
), Henry Cavill (
Stardust, Tristan
+
Isolde
) and special guest Joely Richardson
(The Patriot, Event Horizon and TV's Nip/Tuck)
star in this thrilling final season of "The Tudors", an epic Emmy® Award-winning drama from Michael Hirst, about the life, loves, and lusts of England's most notorious King.
Season 4
sees King Henry VIII marry his fifth wife, seventeen-year-old Catherine Howard, a mischievous beauty who ignites the passion of both the King and his chamber groom, setting up a deadly love triangle. Spun into a midlife crisis, Henry remarries and embarks on a war with France to capture Boulogne and symbolically recapture his youth. At home, the battle between Catholics and Protestants escalates when Henry's beloved sixth wife is charged with heresy… Now Henry, in his growing madness, must determine her fate while securing the legacy of his magnificent reign!
The DVD contains all 10 episodes from the fourth and final season and is available on DVD for £29.99 RRP and Blu-ray for £39.99 RRP. Loaded with never-before-seen extras, bonus materials include the in-depth featurettes -
Illicit Affairs:
Secret Romance in Henry's Court,
The Tudors After Henry:
The Royal Children of Henry VIII and
Farewell to the King:
Michael Hirst on "The Tudors" finale.
Season 4 will also be available to buy as part of
The Tudors Seasons 1-4: The Complete Series
DVD box set, including all four seasons of heart-pounding action and edge-of-your seat intrigue in this critically-acclaimed series that redefined historical dramas. The box set includes an exclusive bonus disc with special features and the in-depth featurettes -
Reviving History:
How the cast and crew brought an old familiar story to a modern audience
Henry's Wives Club:
A look into the women who made King Henry VIII infamous and
Tracking The Tudor Dynasty:
A complete look into the actual dynasty timeline - plus bloopers, deleted scenes and much more!
SEASON 4 SYNOPSIS:
With his brief marriage to Anne of Cleves annulled, King Henry VIII immerses himself in a new relationship, this time with the teenager Catherine Howard. While Katherine's arrival is marred by the loathing of Henry's daughter, Lady Mary, and dogged by the shadows of her own amorous past, England's king faces a bloody religious reformation, an uneasy relationship with Scotland, and intrigue within the royal court fuelled by those with designs on the throne. As Katherine's infidelity and failure to produce a son sentences her to an all-too-familiar fate, the King marries Catherine Parr (Joely Richardson) as England enters an ill-advised war with France that takes its toll on both Henry's fragile health and his army's strength. And as the showdown between Catholics and Protestants exposes religious fault lines across Europe, Henry's egomaniacal madness reaches new heights as his kingdom threatens to implode.
PRODUCT INFORMATION
TITLE
THE TUDORS - SEASON 4
,
THE TUDORS 1-4 BOX SET
Release Date:
21st March 2011
Format:
Retail DVD
,
Retail Blu-ray
RRP: S4 DVD - £29.99, S4 Blu-ray - £39.99, S1-4 DVD Box Set - £59.99
Certificate:
15
Genre:
TV Drama
Running Time:
493
mins / 8 Hours 13 Min
ABOUT SONY PICTURES HOME ENTERTAINMENT
Sony Pictures Home Entertainment is a Sony Pictures Entertainment (SPE) company. SPE is a subsidiary of Sony Corporation of America, a subsidiary of Tokyo-based Sony Corporation. SPE's global operations encompass motion picture production and distribution; television production and distribution; digital content creation and distribution; worldwide channel investments; home entertainment acquisition and distribution, operation of studio facilities; development of new entertainment products, services and technologies; and distribution of filmed entertainment in more than 140 countries. Sony Pictures Entertainment can be found on the World Wide Web at
http://www.sonypictures.com
.