Supernatural ITV drama Marchlands creeps onto DVD in March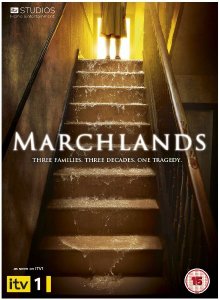 MARCHLANDS
AVAILABLE ON DVD FROM 7TH MARCH 2011
ALEX KINGSTON AND JODIE WHITTAKER STAR IN A BRAND NEW SUPERNATURAL DRAMA
Marchlands
, the gripping, brand new five part ITV drama is available on DVD from 7th March 2011 courtesy of ITV Studios Home Entertainment.
Marchlands
tells the story of three different families living in the same house over different time periods - 1968, 1987 and 2010 The families are linked by the spirit of a young girl, Alice, who drowned in the local lake, Blackwater Tarn, in mysterious circumstances in 1967.
This truly original and compelling concept blends relationship drama with an atmospheric ghost story and is wonderfully played by a highly talented cast including
Alex Kingston
(
Doctor Who, Hope Springs, ER
),
Jodie Whittaker
(
Cranford, Wired, Venus
),
Dean Andrews
(
Ashes to Ashes, Life on Mars
),
Shelley Conn
(
Strike Back, Mistresses
),
Anne Reid
(
Ladies of Letters, Five Days
),
Elliot Cowan
(
The Fixer, Lost in Austen
),
Denis Lawson
(
Criminal Justice, The Passion
),
Jamie Thomas King
(
Mad Men, The Tudors)
and
Tessa Peake-Jones
(
Only Fools and Horses
).
The first commission to come from the creative collaboration between ITV and Twentieth Century Fox,
Marchlands
is written for ITV by
Stephen Greenhorn
(
Glasgow Kiss, Doctor Who
), directed by
James Kent
(
The Secret Diaries of Anne Lister, Margaret
) and produced by
Chrissy Skinns
(
Secret Diary of a Call Girl, Auf Wiedersehen Pet
).
~ Ends ~
Release information:
Release Date: 7th March 2011
Credit: ITV Studios Home Entertainment
Cert: tbc
Running Time: tbc
Extras: tbc
Discs: tbc
DVD RRP: tbc
BLU-RAY RRP: tbc
Retail Cat. Number: tbc
Retail Barcode: tbc
Notes to Editor
About ITV STUDIOS Home Entertainment:
ITV STUDIOS Home Entertainment is the consumer label for DVD and Download to own content within ITV Studios Global Entertainment. It is the company behind one of the UK's most comprehensive film and video collections with over 3000 titles and is a major player in the UK and International Home Entertainment Market. The range includes titles in contemporary and classic film (Shawshank Redemption, Fabulous Baker Boys, Brief Encounter, The Red Shoes), children's titles (Numberjacks, Thunderbirds, Big & Small, Pinky & Perky), drama (Inspector Morse, Poirot, Cracker, Prime Suspect, A Touch of Frost, Lewis, Ultimate Force) sport (Arsenal, and Liverpool football clubs) and comedy (Al Murray The Pub Landlord, Harry Hill's TV Burp). ITV STUDIOS Global Entertainment also owns the video rights for the Rank and ITC film collections which contain over 1500 classic British films.