Wes Craven's My Soul To Take arrives on DVD/Blu-Ray in April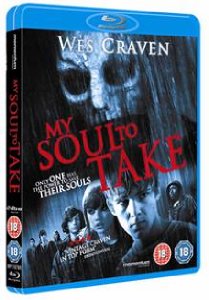 What happens when the dead won't stay dead ...
MY SOUL TO TAKE
Available on DVD and Blu-ray Disc
From 4 April 2010
Ahead of the hotly anticipated finale of the nightmarish
Scream
franchise,
Wes Craven
- twisted genius behind the gory rampage of
A Nightmare on Elm Street -
invites us to witness his latest terrifying offering that promises to make the skin crawl and the heart race. Get ready to be plunged into a terrifying, paranoid frenzy.
ONLY ONE HAS THE POWER TO SAVE THEIR SOULS
From the undisputed master of horror,
Wes Craven
, comes a terrifying tale of the Riverton Ripper, who legend has it, swore he would return to murder the seven children born on the night he died. Now, 16 years later, people are disappearing again. Has the psychopath come back to take his revenge? Did he survive the night he was left for dead? Or has he been reincarnated as one of the seven teens?
Only one of the seven has the answer, but if they hope to save their friends they must face an evil that won't rest.
Max Thieriot
(
Jumper, Chloe
) leads a mesmerizing cast alongside
Denzel Whitaker
and
John Magaro.
All seven of the seemingly loyal friends display the indisputable raw terror that is characteristic of every
Wes Craven
feature.
This desperate scramble to stay alive is an essential addition to Craven's existing fright-fest cult collection. It will have you jumping at every turn and second guessing every one around you.
DVD and Blu-ray Extras include:
Deleted & Extended Scenes
Alternative Opening & Endings
Audio Commentary with Wes Craven & Cast Members Max Thieriot, John Magaro & Emily Meade
Trailer
RELEASE DATE: 4 April2011
CERTIFICATE: 18