Horror fantasy classic Warlock hits DVD in April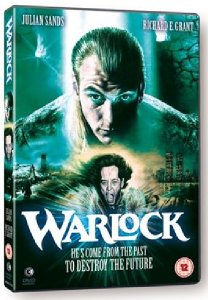 WARLOCK

'
A kind of necromantic

Highlander

with superior special effects that's both bewitching and absorbing'
Radio Times
'
A surprisingly old-fashioned horror adventure that benefits from the superbly malevolent presence of Julian Sands'
Washington Post
Slasher veteran
Steve Miner's
(
Lake Placid
) classic 1980s fantasy-horror
Warlock
makes its DVD debut courtesy of Second Sight.
Julian Sands
(
Naked Lunch
) plays the suavely malevolent warlock in this supernatural action-adventure, with Brit stalwart
Richard E. Grant
(
Withnail & I
) as his witch-finder enemy.
A sinister 17th century warlock summons satanic intervention to escape a death sentence and finds himself transported 300 years into the future, arriving in modern-day Los Angeles, in the apartment of a young waitress (
Lori Singer
-
Footloose
). His quest is to find the scattered remains of the 'Grand Grimoire', the Devil's bible containing the true name of god and with it the power to destroy mankind. Following in hot pursuit is the witch-finder who brought him to trial and must now hunt him down once more.
Sands and Grant give superbly matched performances as the enigmatic, battling adversaries in this action-packed fantasy which has gained cult status since its release and is finally available on DVD on 18 April 2011.
'
This updated witch-finder movie eschews hardcore horror in favour of supernatural action adventure, with enjoyable results. Its master-stroke is the inspired casting
'
Time Out
Title: Warlock
Release Date: 18 April 2011
RRP: £15.99
Cert: 12
Cat. No.: 2NDVD3195
Running time: 99 mins