Anime Review Roundup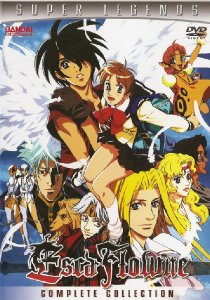 For the first of last week's reviews, I took a trip into anime yesteryear to review
Escaflowne: The Complete Collection
. This is one of those shows that served as gateway drugs for a whole generation of anime fans. Like similar shows, it transcends its genre, it does something special when it comes to animation, and sound, and more importantly the storytelling. Which is good for me, as I'm not a fan of fantasy, and I'm not a fan of mecha, both of which feature strongly in Escaflowne. It's a tale of a young schoolgirl transported to a fantasy world, where she has to help a young displaced king defeat an all-powerful emperor, and restore his throne. It's full of fantastic imagery and far out ideas, and it's easy to see, even after fifteen years, why anime fans rate this show so highly.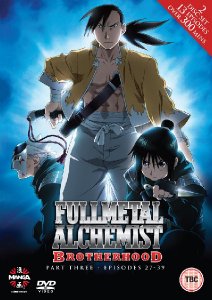 It was back up to the present day with my second review of the week, as I took an eager, greedy, and enamoured look at
Fullmetal Alchemist Brotherhood: Part 3
. This middle instalment of the epic series finally arrives on UK shores, and for fans of good storytelling, this really is a treat. It's still the same story of two brothers, practitioners of alchemy, searching for a way to restore their bodies, and in the process being drawn into a grand conspiracy that threatens to engulf their nation, and their world. Have you ever had that experience with a book, where you keep reading just one page more, even though you know you have to go to work in the morning, and you wind up reading the whole thing till five in the morning? Fullmetal Alchemist Brotherhood is the anime equivalent.
I imported the Bandai Super Legends Edition of Escaflowne released in 2009 from Region 1, as it has subtitles for the final three minutes of episode 26, which the UK release lacks. Beez re-released the venerable series in their Anime Legends form in 2010, so you can buy locally if you so choose. Manga Entertainment will release Fullmetal Alchemist Brotherhood: Part 3 on the 21st February.