Season 4 of 30 Rock hits DVD this February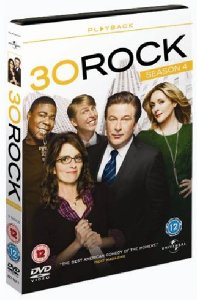 LIZ LEMON AND THE GANG ARE BACK AS 30 ROCK RETURNS TO DVD!
30 ROCK: SEASON 4
30 ROCK: SEASON 1-4 BOX SET
On DVD 14th February 2011
30 Rock
, the Emmy and Golden Globe-winning smash hit comedy is back with arguably its best season yet as
30 Rock: Season 4
arrives on DVD from
14th February 2011
courtesy of
Universal Playback
.
Starring
Tina Fey
(
The Invention of Lying,
TV's
Saturday Night Live
),
Alec Baldwin
(
It's Complicated, Running With Scissors
),
Tracy Morgan
(
Death At A Funeral, Cop Out
) and
Jane Krakowski
(
Ally McBeal, Go
),
30 Rock: Season 4
continues to take a peek behind the normally closed doors and follow the crazed team responsible for putting together
The Girlie Show With Tracy Morgan.
Season 4 sees Liz Lemon (Fey) as neurotic as ever and yet somehow the calm at the eye of the storm when compared to her boss, Jack Donaghy (Baldwin) and the rest of the team.
Famed for its roster of incredible A-list guest stars,
30 Rock: Season 4
ups the ante again, with cameos coming in thick and fast from Hollywood's finest, including Julianne Moore, James Franco, Elizabeth Banks, Michael Sheen, Jason Sudekis, John Hamm, Rip Torn and Matt Damon. Highlights from the series include Liz (Fey) starting her own talk show called "Dealbreakers", Tracy (Morgan) attempting to win an Emmy, a Grammy, a Oscar, and a Tony (an accomplishment known as an EGOT), and Jenna (Krakowski) auditioning for
Gossip Girl
as a college freshman, not realising she's actually up for the role of her mother.
With extras including a selection of hilarious audio commentaries, specially extended episodes and eye-opening behind the scenes featurettes,
30 Rock: Season 4
is exactly what fans have been crying out for and more. For more information on
30 Rock: Season 4
visit
www.universal-playback.com
. Also available on DVD is
30 ROCK SEASON 1 -4
as a box set, so there's no excuse not to catch up on all the gags from across the pond!
What's more, tune in to
Comedy Central
on
Thursday 10th February
to watch the UK premiere of
30 Rock: Season 5
!
ENDS
Release Details
Discs: 3
Cert: 12
RRP: £24.99
Cat No: 8277027
Barcode: 5050582770278
Extras: Audio Commentaries, Extended Episodes, Behind the Scenes Featurettes,
Photo Gallery, Promos.
Copyright Line: © 2009/2010 Universal Studios. All Rights Reserved