John Carpenter's debut Dark-Star, recieves Special Edition treatment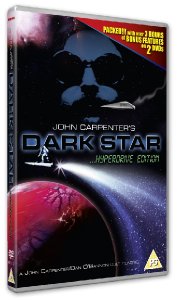 Fabulous Films are pleased to announce
              John Carpenter's Cult Classic
     Dark Star 
                  HyperDrive Edition
Available to buy from 28th February 2011
    The 2011 Hyperdrive Edition has been  sourced from a new 16x9 35mm        
    transfer with additional frame by frame digital restoration of the video master
    to provide the best picture ever seen! The soundtrack has also been digitally   
    enhanced and restored to Dolby Digital 5.1 
    Packed with over 3 hours of bonus features on 2 DVD's, including a brand new 
    documentary , "Let There Be Light: The Odyssey of Dark Star". 
Synopsis
John Carpenter's pulp science fiction classic - this brilliantly clever and funny parody of Stanley Kubrick's 2001: A Space Odyssey follows a warped intergalactic mission to blow up unstable planets. Four bored astronauts fill in time between missions catching up on their tans with the help of a sunlamp, playing with a suspiciously plastic looking alien mascot they are taking back to earth, and conversing with their female version of Hal. Things start to go horribly wrong as the spaceship computer misfires...
Originally running 68 minutes, before 15 minutes of extra footage were shot and the film was released theatrically, the new release contains the original shorter version, the longer theatrical version, and extra features! 
DVD and Blu Ray Contents
-An all new feature length documentary entitled Let There Be Light: The Odyssey of Dark Star
-Dan O'Bannon's final interview
-Interview with Brian Narelle
-3D guide to the Dark Star Ship
-Audio Commentary by super fan Andrew Gilchrist
-Written Intro by Dan O'Bannon
-Trivia
-Original Director's Cut
-Theatrical Cut
-Original Trailer
-English and Spanish subtitles
DVD Specifications
-RRP: £15.99
-2 Discs
-Barcode 5030697019547
-Catalogue No: FHED2808
-PG
-Running Time: 343 Minutes
-Weblink:
www.fabulousfilms.co.uk
Dark Star Hyper Drive Edition
is distributed by Fabulous Films and is available from all good DVD stockists from 28th February 2011