New Paragon Drive Copy 11 Professional
Copies and migrates to

all

disk types; supports

all

Windows versions, migrates even to

dissimilar

hardware!
Paragon Software Group (PSG)
 announces the release of
Paragon Drive Copy 11 Professional
,
the newest generation of copy operations and migration software enabling the fast and easy transfer of operating systems and data to any physical drive or virtual environment - no matter the source or the target.
Paragon Drive Copy 11 Professional
includes all the latest migration and cloning technologies to perform any type of home user migration and ensure the competent, issue-free transfer of partitions to all types of modern 2.2TB+ HDs or SSDs, or virtual system environments.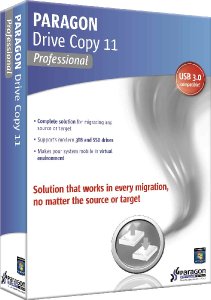 Key Benefits:
Ultra high-capacity HD support (>2.2TB) migrates existing system from MBR to modern Retained GPT (also known as Hybrid GPT) HDD and gain access to complete HDD capacity;
Migrate OS to SSD copies only System and System Reserved partitions to new Solid State Drive;
Auto-alignment of copied partitions for better performance;
WinPE 3.0 recovery environment supports a wider range of hardware configurations with the option to instantly add drivers for specific hardware;
Wide migration options - migrate to another hard drive, migrate to different hardware, migrate to virtual machine;
Dissimilar hardware support allows migration of existing system and makes it bootable in a new environment;
Copy features - copy a full hard disk or a separate partition, and resize a partition while copying;
GPT Loader driver grants full access to GPT volumes under legacy OSes;
Supports all major virtual machines: MS Virtual PC, VMware Workstation, Oracle Virtual Box, VMware Fusion;
Basic partitioning features;
Refined User Interface - improved two-level user interface (Easy/Advanced) to satisfy needs of every customer;
Boot Corrector
Online data processing technologies support Microsoft VSS and Paragon HotCopy

The software supports all types of migrations, including:
Everyday migration
through an easy-to-use
Migrate Hard Disk Drive
wizard
Virtual cloning of your PC
-- including operating system, drivers and settings, all your applications and files. Make the system mobile by saving it to a USB hard drive and using it on another computer, just as if you're working from your own PC.
Upgrade to solid state drives
(SSD) through the intuitive
Migrate OS to SSD
wizard, performing fast and safe Windows migrations to new storage devices (HDD or SSD) with the ability to downsize partitions to smaller capacity drives.
Migration to a
3TB drive
with full, unrestricted access to the entire volume of disk space beyond the 2TB limit.
Easy
hard drive migration
from notebooks via
Container File
- migrate the system to a
Virtual Container
, replace the old HDD, then simply
restore
the system to the new drive.
Pricing & Availability:
Paragon Drive Copy 11 Professional
is available for £24.95 via download from:
http://www.paragon-software.com/home/dc-professional/
For a full list of features and benefits, please visit
http://www.paragon-software.com/home/dc-professional/features.html
For advanced functionality beyond system virtualization and cloning, please visit
http://www.paragon-software.com
to view product information and demos on other Paragon Software technologies, including
Drive Backup
,
Virtualization Manager
and
Hard Disk Manager
.