Coronation Street: Tram Crash lands on DVD in February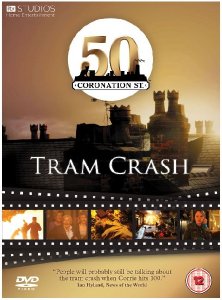 Coronation Street: Tram Crash
The week that changed everything
'
People will probably still be talking about the tram crash when Corrie hits 100."
Ian Hyland, News of the World
Arriving on DVD due to enormous public demand, all six episodes from the explosive week that marked Coronation Street's 50th Anniversary will be released on a two-disc box set from 21st February 2011
,
courtesy of
ITV STUDIOS Home Entertainment.
In December 2010 Coronation Street celebrated its fiftieth anniversary with an extraordinary week of episodes that gripped the nation and featured the spectacular tram crash, followed by the highly dramatic and emotional aftermath. Life on television's most famous street will never be the same again...
This very special DVD set includes every episode from that extraordinary week of drama, including the historic hour-long live episode, as well as a host of fabulous extra features, making the double-disc DVD a must for any fan of Corrie.
Special Features
The Making of Anniversary week
The Filming of the tram crash
The filming of the Live episode
*Tram Crash News Flash (dramatised ITV News)
Farewell Ashley
Richard Arnold Blog ' What's Next For The Websters'
Ken Barlow - A Life On The Street
50 Years Of Corrie Stunts hosted by Craig Charles
Title: Coronation Street -Tram Crash
Release date: 21 February 2011
Credit: ITV STUDIOS Home Entertainment
Running Time: TBC
RRP: £12.99
Retail Cat. Number: 37115342553
Retail Barcode: 503711535530
Copyright:
© ITV Studios Limited
Notes to Editor
ITV STUDIOS Home Entertainment is the consumer label within ITV Studios Global Entertainment. It is the company behind one of the UK's most comprehensive film and video collections with over 3000 titles and is a major player in the UK and International Home Entertainment Market. The range includes titles in contemporary and classic film (Shawshank Redemption, Fabulous Baker Boys, Brief
Encounter, The Red Shoes), children's titles (Numberjacks, Thunderbirds, Big & Small, Pinky & Perky), drama (Inspector Morse, Cracker, Prime Suspect, Murphy's Law, Lewis, Ultimate Force) sport (Arsenal, and Liverpool football clubs) and comedy (Al Murray The Pub Landlord, Harry Hill's TV Burp). ITV STUDIOS Global Entertainment also owns the video rights for the Rank and ITC film collections which contain over 1500 classic British films.