Motherhood comedy Life As We Know It comes out in March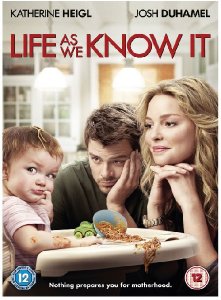 'LIFE AS WE KNOW IT'
Nothing prepares you for motherhood!!
Out on Blu-ray & DVD 28th March
Dirty nappies, complete exhaustion, and utter chaos - find out how new mothers cope when "Life As We Know It" arrives on Blu-ray and DVD on the 28th of March from Warner Home Video. This hilarious comedy,
staring Katherine Heigl
(27 Dresses, Knocked Up),
and Josh Duhamel
(When In Rome, Transformers), explores the calamities of unexpected first-time parenthood.
After a disastrous first date set up by their best friends, all Holly (Katherine Heigl) and Messer (Josh Duhamel) have in common is their mutual dislike for each other and their love for their goddaughter, Sophie. However, after a devastating car accident, which kills both of their best friends, they discover that they are joint guardians and must now learn how to act as parents to a 1 year old baby.
They are all Sophie has in the world, so Holly and Messer must quickly rise to the challenge and make the home environment as normal as possible for their goddaughter whilst swiftly adapting to the challenges of being first-time parents! Watch as they navigate through the minefields of parenthood, and empathize with the newly appointed mum Holly, as she struggles with nappy changing, juggling motherhood with work commitments and going to great lengths not to miss those priceless first moments.
Christina Hendricks (Mad Men) and Josh Lucas (Glory Road, A Beautiful Mind) also star in this warm-hearted comedy, directed by Greg Berlanti (Brothers & Sisters) A perfect gift for Mother's Day, Life As We Know It is available on Blu-ray, DVD, On-Demand and Digital Download from 28th March'
Triple Play Blu-Ray (BD, DVD and Digital Copy) Special Features:
·
A Survival Guide to Instant Parenting
- Our comedic, self-appointed experts - Josh Duhamel, Katherine Heigl, Will Sasso, Jessica St. Clair, Melissa McCarthy, Andrew Daly, Bill Brochtrup and Ron Huebel - give outrageously funny child-rearing advice that would make the PTA cringe!
·
Katherine Heigl: Becoming the Best Mom Ever
(See all the touching, funny and challenging moments that Katherine Heigl faced in becoming an overnight mom.
·
Josh Duhamel: The Triplet Tamer
- Josh Duhamel gets sentimental and is full of charm as he wins the admiration of his three 'little' leading ladies.
· Deleted Scenes
1 disc DVD Special Features:
· Deleted Scenes
-ENDS-
'Life As We Know It'
is out on Blu-ray and DVD on 28th March from Warner Home Video.