UK horror flick Gnaw arrives on DVD this February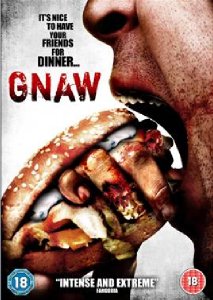 GNAW


IT'S NICE TO HAVE YOUR FRIENDS FOR DINNER
ON DVD 21 FEBRUARY 2011
"Intense and extreme"
- FANGORIA
"wears its love of The Texas Chainsaw
Massacre on its sleeve...A nail biter."
- DVD VERDICT
Six friends head off to a country estate for a weekend of bonding, bed hopping and home-cooked feasts. But their good times go very bad when they encounter a clan of slaughter-happy psychopaths with expert skills in butchery and a ravenous hunger for teen-meat pies. What follows is a brutal battle for survival, complete with shocking carnage, killer twists, and graphic reasons to avoid UK cuisine forever. It's The Texas Chain Saw Massacre in the English countryside that walks a knife's edge between tongue-in-cheek humour and teeth-in-flesh terror. Bring a strong stomach and a hearty appetite: British horror is back with a vengeance!
EXTRAS:
·
Humble Pie: The Making of Gnaw
·
Directors commentary
·
Trailer
· RUN TIME: 90 mins approx
· CERT: 18
· CAT NO: DIG3828
· BARCODE: 5034741382816
· RRP: £15.99