Alien invasion thriller Skyline hits DVD and Blu-ray this March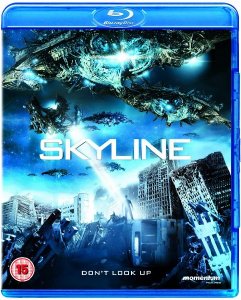 From VFX specialists The Brothers Strause comes the terrifying,
alien invasion thriller
S K Y L I N E
DESCENDING ONTO DVD & BLU-RAY 21 MARCH 2011
WHATEVER YOU DO . DON'T LOOK UP
SKYLINE
is a terrifying journey into our fear of the unknown, a high-velocity, special effects bonanza that resonates with feelings of urban panic in these dangerous times. Visual-effects masters
The Brothers Strause
(
AVPR: Aliens vs. Predator—Requiem
)—whose company
Hydraulx
has imagined visual effects for
Avatar
,
2012
,
Iron Man 2
,
The Curious Case of Benjamin Button
and
300
—have directed, produced and financed a spectacular and chilling independent film of epic proportions.
A group of friends are awakened in the dead of the night by a strange, eerie light beaming through their apartment window. Like moths to a flame, a disturbing blue light is throwing the people of Los Angeles into a trance, drawing them outside before a terrifying extraterrestrial force swallows them off the face of the earth. The city streets are empty, the phones are down and TV stations broadcast HD news feeds of nothing but empty chairs. In a matter of hours, we will all be gone.
For Jarrod (
Eric Balfour
) and Elaine (
Scottie Thompson
), a simple weekend away to visit friends Terry (
Donald Faison
) and Candice (
Brittany Daniel
) becomes a nightmare. As they watch in terror from Terry's penthouse windows, people across the city are swallowed  into massive alien ships that have blotted out the L.A. skyline: life as they know it is finished. With the military struggling to keep the aliens at bay, now it will take every survival instinct they have to elude capture from the thousands of monstrous creatures that are sweeping the city and searching for all humans in their path. From tankers to drones and hydra-like extraterrestrials, the aliens are inescapable and seemingly indestructible.
Eric Balfour
(
24, Texas Chainsaw Massacre
) stars alongside
David Zayas
(
Dexter, The Expendables
),
Donald Faison
(
Scrubs
),
Brittany Daniel
(
Sweet Valley High
),
Neil Hopkins
(
Lost
) and newcomers
Scottie Thompson
(Star Trek) and
Crystal Reed
(Crazy, Stupid, Love)
.
SKYLINE
is directed by brothers
Colin Strause
and
Greg Strause
, written by
Liam O'Donnell
and
Joshua Cordes
and producer
Kristian Andreson
.
The end of the world has come … and it's just outside your window
RELEASE DATE: 21 March
2011 / CERTIFICATE: 15
INCLUDES FREE DIGITAL COPY DOWNLOAD
DVD & BLU-RAY EXTRAS INCLUDE:
Deleted, Alternate & Extended Scenes
Pre-Visualization
Trailers
Feature & Bonus Audio Commentaries