Live action family flick Marmaduke arrives on DVD and Blu-ray in February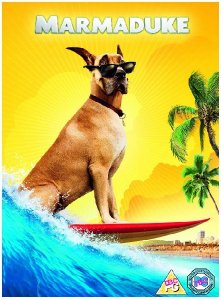 MARMADUKE
LIVE LARGE on DVD and Blu-ray Triple Play from 14th February 2011
Marmaduke, the world's most lovable Great Dane, leaps onto DVD and Blu-ray Triple Play on
14th February 2011
. Released by
Twentieth Century Fox Home Entertainment
the film follows the hilarious trials and tribulations of the "Duke" as he embarks on a new life living large in California.
When Marmaduke's (voiced by
Owen Wilson;
Wedding Crashers
) owner Phil (
Lee Pace;
Pushing Daises
) announces that the family are relocating along with beloved Balinese cat Carlos (voiced by
George Lopez;
Lopez Tonight
) to Orange County, Marmaduke knows that it won't be easy fitting in with his new four-legged friends. The Kansas native soon finds a romantic interest in Jezebel (voiced by
Fergie;
The Black Eyed Peas
) to occupy his time and sets out to impress her together with new friend Mazie (voiced by
Emma Stone;
Superbad
) Little does he know that Mazie has already fallen for his charm.
As Marmaduke sets out on a on a madcap journey to 'get the girl' including dog surfing escapades, staged fights and a disastrous pedigree-only party hosted by his main rival, the violent Bosco (
Kiefer Sutherland
;
24
) he quickly learns making new friends and enemies unfortunately come hand-in-hand.
Join the Great Dane and his chums on this
live action
film adaptation
of
Brad Anderson
's
comic strip
Marmaduke
and enjoy the family event with howling fun and mayhem - the perfect gift to keep your family entertained over half term.
-ends-
Release Date: 14th February 2011
Running Time: 87 minutes
Distributor: Twentieth Century Fox
Certificate: U
DVD Price: £15.99
Blu-ray Triple play price: £24.99
Contents:
DVD
• DVD Feature
• Digital Copy
• VAM
3 x Deleted Scenes
'Cowabarka' featurette
Canine Casting
Blu-ray Triple Play
• Blu-ray feature
• DVD feature
• Digital Copy
• VAM
8 x Deleted Scenes
'Cowabarka' featurette
Canine Casting
Puppy Marmaduke and Kitty Carlos: Home Movies
Marmaduke Mayhem! Gag Reel