Gang thriller Aggravated Assault hits DVD this February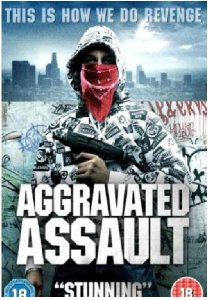 AGGRAVATED ASSAULT
24 hours is a long time on the streets
DVD Release date: 14th February 2011
Running time: 93 Minutes
Price: £15.99 Certificate: TBC
Tough, tense and all-too-real,
AGGRAVATED ASSAULT
is a hard-hitting account of the shocking acts committed by gangs, the speed at which events can escalate and the difficulty of maintaining integrity in a world fraught with danger.
After a long stint doing time for a string of brutal crimes, John leaves jail determined to get his life back on track. After taking a job he makes new friends and seems to be getting on the straight and narrow, but his gangland past soon comes back to haunt him…
John's younger brother Charlie has become involved with a local gang, entering into the dark and dangerous world of drugs, prostitution and deadly weapons. Tensions mount as clashes with rival gangs become more frequent and blood starts to run in the streets. John realizes that Charlie is set on a course for destruction and moves in to help him, re-entering the world he vowed to leave behind.
Please note there are no extra features on this disc