Let Me In out on DVD and Blu-ray this March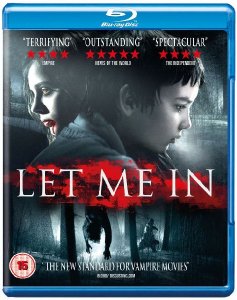 LET ME IN
on DVD & Blu-ray
March 14th

http://www.letmein-movie.com/
Official Synopsis:
From Matt Reeves - the director of
Cloverfield
- comes the new vampire classic that critics are calling "chillingly real" (Scott Bowles,
USA Today
), "one of the best horror films of the year" (
Cinematical)
and "a haunting, touching and unforgettable thriller" (Pete Hammond,
Boxoffice Magazine
). In bleak New Mexico, a lonely, bullied boy, Owen (Kodi Smit-McPhee of
The Road
), forms a unique bond with his mysterious new neighbor, Abby (Chloë Grace Moretz of
Kick-Ass
), who moves from town to town with the man who appears to be her father (Oscar® Nominee Richard Jenkins of
The Visitor
). Trapped in the mind and body of a child, however, Abby is forced to hide a horrific secret of bloodthirsty survival. But in a world of both tenderness and terror, how can you invite in the one friend who may unleash the ultimate nightmare?
LET ME IN
BLU-RAY™

Street Date:
March 14th, 2011
Run Time:
115 Minutes
Rating:
Rated R
SRP:
£15.99
Format:
2.40:1 / 16x9
Audio:
Dolby TrueHD 5.1
Subtitles:
English SDH, Spanish
Bonus Features:
Audio Commentary with Writer/Director Matt Reeves
From the Inside: A Look at the Making of
Let Me In
The Art of Special Effects
Car Crash Sequence Step-By-Step
Blu-ray™ Exclusive: Dissecting
Let Me In
Unrated Deleted Scenes
Trailer Gallery: Greenband Trailer, Redband Trailer
Poster & Still Gallery
Digital copy of the film.
LET ME IN
DVD

Street Date:
March 14th, 2011
Run Time:
115 Minutes
Rating:
Rated 15
SRP:
£15.99
Format:
2.40:1 / 16x9
Audio:
Dolby Digital 5.1
Subtitles:
English SDH, Spanish
Bonus Features:
Audio Commentary with Writer/Director Matt Reeves
From the Inside: A Look at the Making of
Let Me In
The Art of Special Effects
Car Crash Sequence Step-By-Step
Unrated Deleted Scenes
Trailer Gallery: Greenband Trailer, Redband Trailer
Poster & Still Gallery