TV presenter Nadia Sawalha adds her Exercise Video to the list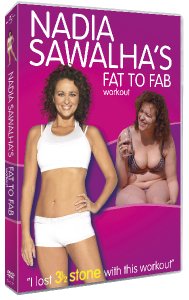 HOW TV PRESENTER NADIA SAWALHA EXERCISES HERSELF FROM FAT TO FAB!


"I've wanted to be slimmer for over twenty years but never did anything about it. I had nearly given up my 'slim dream' before I found this routine, not only is it fun but I actually love doing it! And most importantly of all it really works, I've gone from a size 18 to a 10 in four months!
I honestly never believed I'd be able to lose the weight or have a toned size 10 body.
But now I have…and so can you!"
TV PRESENTER, NADIA SAWALHA
Serial yo-yo dieter, Nadia Sawalha, can relate to all those women out there who lose weight, only to pile it all back on again. After numerous, well-documented, successful weight loss attempts in the past, busy mum of two and TV star, was at her all time heaviest at a whopping three and a half stone overweight before starting the workout.
Nadia knew her entire lifestyle had to change. So, out with the old and in with the new, Nadia adopted a manageable fitness regime and adapted her cooking style, exploring a new world of healthy but tasty recipes. The magic formula, she devised for herself worked; Nadia dropped 49 lbs, reached a size 10 and now reveals her secret weapon in her battle of the bulge in her brand new fitness DVD
Fat to Fab
.
Fat to Fab
is an interval training programme offering short, sharp, effective results. It will appeal to everyone with busy lifestyles, proving there are enough hours in the day to keep fit and healthy. Bucking the fitness DVD trend, this isn't just a collection of workouts -
Fat to Fab
includes an entire section on healthy eating, where Nadia, 2007 winner of Celebrity Masterchef, demonstrates the preparation of her 'Slimmer Dinners', sharing her tasty recipes and cooking tips to suit every palate.
Fat to Fab
includes 5 fantastic workouts, including:
·
Warm Up -
Don't miss this one out! It's really important to warm up you muscles.
·
High Energy Fat Burner
- You're going to get sweaty but who cares?! You will be burning fat!
·
All Over Body Blast
- This will get your heart rate up, designed for all over body toning with a section focusing on the arms
·
All Over Body Toner
- All over toning with a focus on the core
·
Cool Down
- Time to stretch, relax and take a little 'me' time!
The DVD also Includes a
FREE
booklet of 7 of Nadia's mouth watering recipes that helped her get into shape.
Workout to Nadia's brand new DVD and you will go from fat to fab in double quick time by making simple, but effective lifestyle changes around the way you approach food and fitness. Use the latest DVD technology to cherry-pick a short workout or recipe section when time is limited.
Nadia says
"

Fat to Fab

really does work. I still love food and my recipes allow people to eat and stay healthy at the same time. As for the exercise, it will totally change your body shape. It's fantastic".
"Nadia Sawalha: Fat to Fab Workout "
is on sale nationwide from 27 December 2010. (RRP £19.99 Universal). © 2010 Universal Studios. All Rights Reserved.
-Ends-
NOTES TO EDITORS
Nadia Sawalha
Nadia Sawalha is best known for her role as Annie Palmer in EastEnders. Other acting credits include Casualty and The Bill. In addition to acting, Nadia has become a regular presenter on daytime TV. Shows include Loose Women, Passport to the Sun, TV Mail, Perfect Partner, Family Exchange, Wanted Down Under, Living in the Sun, Accidents can Happen and Mirror, Signal, Manoeuver. In 2007, Nadia won Celebrity Masterchef and went on to present Eating in the Sun. Nadia is married with two children.
Universal Pictures UK - www.nbcuni.com
Universal Pictures UK is a division of Universal Pictures International Entertainment, which is part of NBC Universal, one of the world's leading media and entertainment companies in the development, production, and marketing of entertainment, news, and information to a global audience. Formed in May 2004 through the combining of NBC and Vivendi Universal Entertainment, NBC Universal owns and operates a valuable portfolio of news and entertainment networks, a premier motion picture company, significant television production operations, a leading television stations group, and world-renowned theme parks. NBC Universal is 80% owned by General Electric and 20% owned by Vivendi.