David Suchet returns as Poirot in January on DVD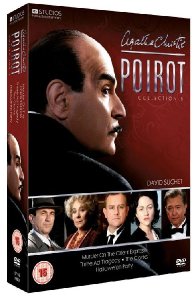 POIROT: COLLECTION 8
FOUR NEW FILMS AVAILABLE TO OWN ON DVD 3 JANUARY 2011
Join Hercule Poirot and delve into a world of mystery and crime-solving, where curiosity meets intelligence and diligence and one man's 'little grey cells' are a force to be reckoned with.
With David Suchet in the iconic title role, Collection 8 features four new Agatha Christie adaptations starring Martin Shaw, Zoë Wanamaker, Eileen Atkins, Hugh Bonneville, Barbara Hershey, David Morrisey, Jaime Winstone, Lesley Sharp, Julian Rhind-Tutt, Toby Jones, Art Malik, Jane Asher. Timothy West and Eric Sykes.
In Agatha Christie's iconic
MURDER ON THE ORIENT EXPRESS
, Poirot's journey on the Orient Express takes an unexpected turn for the worse when he is approached by ruthless American businessman Samuel Ratchett, who offers him $10,000 to protect him from his fellow passengers onboard. Poirot awakes the following morning to find the train stuck in a snowdrift and Ratchett dead in his compartment. Interviewing the varied passengers, Poirot finds a proliferation of clues pointing in opposite directions. Realising the true identity of Samuel Ratchett, Poirot is not convinced that a mysterious assassin who got on and off the train is the killer. Isolated by the snow and with civilisation out of reach, Poirot is forced to make a decision that will change his life forever.
In the enigmatic
THE CLOCKS
Lieutenant Colin Race is investigating the death of two Navy personnel when a distraught Sheila Webb runs out of 19 Wilbraham Crescent and into his arms. Poirot travels to Dover at Colin's behest and observes the mounting complications to the case: there are four clocks frozen at the time of 4.13 in the room where the body was found; the owner of the house denies having requested Shelia's secretarial services; there's an unidentified murder victim and a host of neighbours with their own dark secrets. A wall of evidence begins to build against Sheila and the clock ticks for Poirot when another innocent victim is found brutally murdered.
Award winning actress Zoë Wanamaker makes a welcome return as Ariadne Oliver in
Hallowe'en Party
. When Ariadne attends a children's Hallowe'en party in Woodleigh Common with her friend Judith, a young girl boasts of having witnessed a murder years before. Later that evening Joyce Reynolds is found dead. At the request of Ariadne, Poirot arrives at Woodleigh Common to investigate the murder. While Poirot pieces together the facts, another child is found murdered. A forged codicil, a missing au pair and a secret love affair all serve as clues to solving the crime.
In
Three Act Tragedy
, Poirot visits Cornwall to attend a dinner hosted by his friend, retired actor Sir Charles Cartwright. When an amiable local Reverend chokes to death on his cocktail Poirot realises that, with the exception of Sir Charles's doctor friend Sir Bartholomew Strange and the enigmatic Miss Egg Lytton Gore, anyone of the eclectic guests could have taken the glass. When, weeks later, Sir Bartholomew Strange chokes to death surrounded by many of the same guests, the motives seem plentiful. Could a missing butler, a mysterious telephone message or secret tunnel be the key to solving the case?
Release information:
Release Date: 3 January
Credit: ITV STUDIOS Home Entertainment
Genre: Drama
Cert: 15
Running Time: 403 minutes
Discs: 4
RRP: £24.99
Retail Cat. Number: 3711532803
Retail Barcode: 5037115328038
Notes to Editor
About ITV STUDIOS Home Entertainment:
ITV STUDIOS Home Entertainment is the consumer label within ITV Studios Global Entertainment. It is the company behind one of the UK's most comprehensive film and video collections with over 3000 titles and is a major player in the UK and International Home Entertainment Market. The range includes titles in contemporary and classic film (Shawshank Redemption, Fabulous Baker Boys, Brief Encounter, The Red Shoes), children's titles (Numberjacks, Thunderbirds, Big & Small, Pinky & Perky), drama (Inspector Morse, Cracker, Prime Suspect, Murphy's Law, Lewis, Ultimate Force) sport (Arsenal, and Liverpool football clubs) and comedy (Al Murray The Pub Landlord, Harry Hill's TV Burp). ITV STUDIOS Global Entertainment also owns the video rights for the Rank and ITC film collections which contain over 1500 classic British films.