Romcom Valentine's Day gets a re-issue in February for the loved up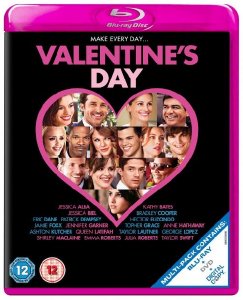 Celebrate the season of love with
Valentine's Day
- New to promotion on Blu-ray & DVD -
Make February 14th 2011 a day to remember with feel-good romantic comedy,
Valentine's Day
, out now on Blu-ray and DVD. To celebrate the season of love, the DVD now comes in a special commemorative red sleeve and is perfect for sharing a cosy, candlelit night in with your partner this Valentine's Day.
Valentine's Day is directed by the godfather of rom-coms,
Garry Marshall
(Pretty Woman, Runaway Bride),
and stars a stellar cast including, deep breath,
Ashton Kutcher, Jessica Alba, Jessica Biel, Julia Roberts, Jennifer Garner, Emma Roberts, Bradley Cooper, Patrick Dempsey, Kathy Bates, Taylor Swift, Anne Hathaway, Eric Dane, Jamie Fox, Hector Elizondo, Topher Grace, Queen Latifah, Taylor Lautner, George Lopez, Shirley MacLaine
...need we go on? From first dates to old flames, Valentine's Day follows the lives of couples and singles as they experience the highs and lows of finding, keeping or ending relationships, over the course of one day.
Happy-go-lucky florist, Reed (
Ashton Kutcher
) proposes to the love of his life, Marley (
Jessica Alba
), but is shocked to find she might not feel the same. Reed's best friend Julia (
Jennifer Garner
) has finally fallen in love with dishy Harrison (
Patrick Dempsey
). He is the ideal man; sweet, sensitive, romantic, and a doctor. But is he really Mr Perfect?
Julia's best girlfriend and long-term singleton, Kara (
Jessica Biel
) is a publicist for the country's biggest sporting hero. Married to her career, she has always been missing a piece of the puzzle - a boyfriend! Every year she drowns her sorrows in a bottle of wine with an 'I Hate Valentine's Day party'. Will she or won't she spend it all alone again?
High school sweethearts Grace (
Emma Roberts
) and Alex (
Carter Jenkins
), and Felicia (
Taylor Swift
) and Willy (
Taylor Lautner
), experience their first taste of love with big plans for Valentine's Day.
Shirley MacLaine
and
Hector Elizondo
play Estelle and Edgar, a long-married couple whose relationship may be rocked by an old and very inconvenient truth. Meanwhile, businessman Holden (
Bradley Cooper
) and military captain, Kate (
Julia Roberts
) share a long conversation during an international flight - could it be love for them too?
Don't miss the break ups and make ups this February in 'Valentine's Day', out now on Blu-ray and DVD.
DVD ELEMENTS
Standard Edition:
14 Deleted Scenes with Intro from Garry Marshall
Blu-ray Disc:
14 Deleted Scenes with Intro from Garry Marshall
"The Stars Confess Their Valentine's Day Stories"
Gag Reel
Jewel "Stay Here Forever" Music Video
The Garry Factor
Audio Commentary
Warner Home Video
With operations in 90 international territories, Warner Home Video, a Warner Bros. Entertainment Company, commands the largest distribution infrastructure in the global video marketplace. Warner Home Video's film library is the largest of any studio, offering top quality new and vintage titles from the repertoires of Warner Bros. Pictures Inc., Turner Entertainment Company, Castle Rock Entertainment, HBO Home Video and New Line Home Entertainment