Chantelle's Bootcamp Workout released this December on DVD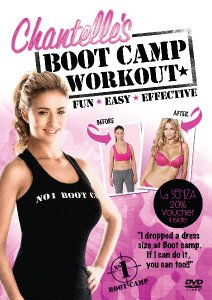 Chantelle loses 1 and a half stone
Ultimate Big Brother star Chantelle Houghton has shed nearly 1 and a half stone thanks to an intense bootcamp regime which she will share with her fans in new fitness DVD, Chantelle's Bootcamp Workout, released on 27th December.
Chantelle trained to becoming fighting fit before she re-entered the Big Brother house, shedding just over a stone before the series aired. She continued upon leaving the house and has now reached her size 8 goal (from size 14).
Chantelle adds:
"Like most women, I've always struggled to keep the pounds off. I've tried so many diets but a sensible eating plan and working out military-style with no.1 bootcamp is the only thing that keeps the weight off. It makes me feel energised on the inside and I don't wobble on the outside! There's no big secret, I'm looking forward to sharing my tips so that every woman out there just like me can do it too."
Chantelle's Bootcamp Workout
is out 27th December through Revolver Entertainment