Anime Review Roundup
How Can You Turn A 2D Artform Into 3D?
I mean, everything is being made 3D now. It's the latest cash cow being milked that has turned into one more reason why I don't go to the cinema anymore. I don't mind the made for 3D option, but retrofitting films so they'll earn the extra 3D penny shouldn't be done. And double for revisiting classic movies and dimensionalising them. But anime? You can't get more 2D a medium than traditional animation. That is the whole point after all. But now news comes that the Ghost in the Shell: Stand Alone Complex movie, Solid State Society is going to be refitted into 3D. The news is at
Anime News Network
, and I keep checking the calendar and it isn't April 1st.
Remember To Durararararara!!!!
It's actually Durarara!!, and it's making its UK debut today, courtesy of Beez Entertainment who release the first of 3 volumes onto DVD. For once we get an anime before the US, although because of that there isn't a dub. Beez have promised an upgrade programme for when a dub is eventually made next year. It's from the makers of Baccano!, and it sees one Mikado Ryugamine starting high school. He's from a quiet country town, has never left his home before, and is totally green. But his best friend Kida goes to school in the city, so he's packed his bags and made the move to wild and woolly Ikebukuro. Coming to the big city is like walking into a new world, a city replete with gangs, human traffickers, an insanely strong bartender, an even stronger sushi vendor, an underground doctor, a pharmaceutical company involved in human experimentation and much, much more. And there is the legendary headless rider, who cruises the streets of Ikebukuro on a pitch-black motorcycle, terrorising the unwitting. If you've seen Baccano! and know of its fractured narrative and rich diversity of characterisation, you're going to love this. And you can try before you buy, as the episodes are up at Crunchyroll, where you can stream them free and legally. Just click on the link to the right and you'll see that I'm not just blowing smoke.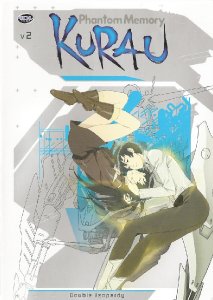 To kick things off last week, I took a look at the second volume of Kurau Phantom Memory. That's what happens when you get the series all in one go, and you should expect a regularity of Kurau reviews in the proceeding weeks. Of course that means in terms of viewing, I'm a little ahead of the reviews, and where I should be bright, optimistic and cheery about Volume 2 and the little pleasures it delivers, that view may be tempered by what I have just seen a couple of volumes down the line. Still, for simple enjoyable sci-fi action antics, you can't do much worse than
Kurau Phantom Memory: Volume 2
. Just click the review to see.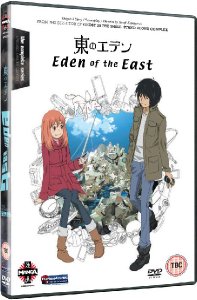 I can be a whole lot more positive about
Eden of the East: The Complete Series
. When it was released in Japan last year, and quickly made available by 'other means' to the rest of the world, it quickly became clear that this show was something very special, something as far removed from the anime norm as you can possibly imagine. I took advantage of those other means and found it to be the most gripping, original, and engrossing cyberpunk thrillers in any medium for a long time. You can keep your FlashForwards and your Losts, as this is event television refined and perfected. And now it comes to DVD and I find that it's even better than I remember. Admittedly a lot of that comes down to a clear television image as opposed to a migraine inducing PC monitor image, but the rest of it is pure genius from the talent behind Ghost in the Shell: Stand Alone Complex and Moribito: Guardian of the Spirit. Click on my review for some unbridled gushing.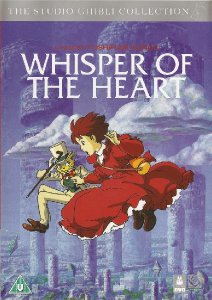 I wound up the week with a trip down back catalogue lane, as I found myself in possession of
Whisper of the Heart
, part of the Ghibli collection. This isn't a Hayao Miyazaki film, but that's no reason to dismiss it. In fact, this is a film worthy of attention, as its fairy tale is told in a very urban milieu, free of grand displays of magic, and breathtaking transformations. This is a magic that comes from within, in a heartwarming and nostalgic tale of first love, a coming of age drama as a teenage girl on the cusp of adulthood comes to that crossroads in her life that we all at one time face.
ADV released Kurau Phatom Memory: Volume 2 in the US back in 2007, and there may be a few UK copies still floating around. Eden of the East comes out today, and we have Manga Entertainment to thank for that. Whisper of the Heart was released by Optimum back in 2006.