The latest home security products from Swann
Recent newspaper reports state that insurance claims are up by as much as 50% or more as vandals take advantage of longer hours of darkness as a result of the clocks going back an hour from British Summer Time. It is generally acknowledged that the fear of crime is higher in the dark winter months. People feel more vunerable during darker evenings. Swann security devices are inexpensive and can deter undesirables. Homes with a security device installed are 8 times less likely to be broken in to than those without showing how effective deterrent security devices are. Swann security products are easy to install and offer complete peace of mind.
Included in the range are:
DVR4-2000 Security Recording Kit (includes free app for live streaming on iPhone)
This Security Recording Kit provides you with everything you need to monitor, record and capture video footage for your home or business. With the ability to 'set and forget' the kit to record up to 30 days with 4 cameras simultaneously, you will never miss any suspicious activity. The kit includes two PNP-150 video cameras that can capture footage day and night from up to 30ft away. Each camera is weather resistant with anti-corrosive casing, and with the H.264 state-of-the-art recording technology, you can be sure of a high image quality without large file sizes. The DVR4-2000 easily connects to your TV for viewing on the AV channel, and comes equipped with remote viewing software to view footage over the internet. You can even download a free app for live streaming on your iPhone or Smartphone. And you can easily install two more cameras from the Swann Security range for further coverage.
The DVR4-2000 is available at SRP £399.99 inc from selected PC World, Currys & Makro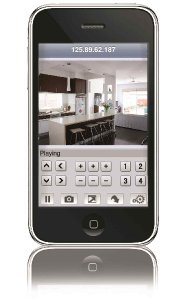 ADW-400 Digital Guardian Camera & Recorder
The ADW-400 Digital Guardian Camera and Recorder introduces unprecedented affordability for people who require a solution that not only allows them to see what's going on but also record footage.
One of the biggest inhibitors to effective wireless camera performance in past years has been interference from nearby Bluetooth devices, Web routers, microwave ovens and cordless phones. Swann's latest Advanced Digital Wireless cameras are truly Wi-Fi friendly with an encrypted point-to-point signal providing a 100 per cent secure signal that cannot be intercepted.
By combining this high quality wireless camera with a neat, compact SD card receiver and recording system, Swann have created a fantastic do-it-yourself solution that provides genuine protection for homes and businesses. It is well worth the upgrade from traditional analogue technology for the peace of mind of your family or business. Swann's ADW-400 weather resistant, colour camera features day/night functionality and a transmission distance between the camera and receiver of up to 50 metres. It also features a built-in microphone so you can also hear what's going on. Additional cameras are available for £99.99
The ADW-400 is available at SRP £199.99 inc from Amazon, Currys, PC World, Argos (Jan 2011) & Makro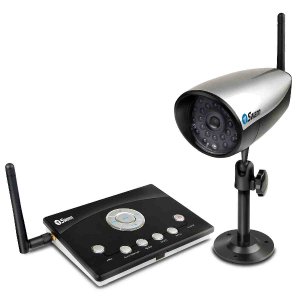 ADW-200
With a secure, wireless transmission up to 50m, and up to 8m night vision, you can be sure not to miss a thing with the ADW-200. The robust, weather resistant metal casing ensures that recording quality does not deteriorate in bad weather, and the built in microphone means that you will always hear, as well as see, what is going on. Set up is easy - simply install the camera in the area you want monitored, plug the receiver in your TV, and once set to the same channel, the camera and the receiver will pair up.
The ADW-200 is a cost effective way camera and receiver for easy viewing on any TV. In addition to the ADW-200 Wireless Camera, the pack also includes a digital receiver, RCA cable, two power adapters, mounting screws and plugs, theft deterrent stickers, and the instructions you need for easy set up and installation. Additional cameras for this are available for £69.99
The new ADW-200 will be available from Argos in January 2011 at SRP £119.99 inc.