MAGIX Movie Edit Pro 17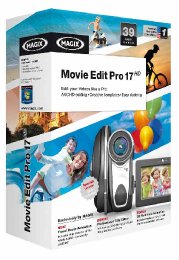 The World's First 3D Video Editing Program!
MAGIX has announced the release of Movie Edit Pro 17. Available in two versions - Classic for beginners and Plus for more ambitious users, Movie Edit Pro 17 is the perfect solution for video editing and dubbing. Movie Edit Pro 17 gives you everything you need for creating perfect videos. With over 1000 effects and fades you can transform your videos into works of art. The comfortable video editing and extensive audio dubbing means it is ideal for the beginner and ambitious user, whilst the full HD workflow supports all standard DV camcorders as well as high-resolution HDV and AVCHD video cameras.
MAGIX Movie Edit Pro 17
is the best Movie Edit Pro of all time! With greatly improved performance, it is even faster and easier to transform your footage into breathtaking moves including impressive special effects, matching background music and interactive menus.
Movie Edit Pro 17 Features:
Support for all conventional (H) DV camcorders, webcams and other video sources
Burns video with interactive menus onto DVDs and Blu-ray Disc
Import videos directly from your iPhone
Upload videos to YouTube/Vimeo in Full HD
PC performance check
Generate colour clips
Professional travel route animation
Bonus Additional Software:
Professional Title Editor: proDad Heroglyph Rapid
3D Real-time Animation Software: Reallusion iClone 4 SE
Special Effects Package: proDAD Adorage Starter Package
Movie Edit Pro 17 Plus
is the world's first consumer 3D video editing program. Edit your videos as usual in 2D, then create breathtaking 3D movies that captivate your audience! Movie Edit Pro 17 Plus offers more ambitious filmmakers improved performance for even easier video editing and professional video editing with video monitor zoom and trackers outside of the image area. Upload your completed videos to YouTube, Vimeo or Facebook, or burn them to a DVD or Blu-ray and experience the next dimension of video editing!
Movie Edit Pro 17 Features:
Professional video editing with 99 tracks, 3D design, individual effects automation, primary and secondary colour correction, chroma keying and more.
High-end dubbing - Multi-channel Surround Sound with Dolby Digital 5.1 Creator, Audio Mastering Suite, Beat recognition and more
MultiCam Editing for 2 cameras
AVCHD import assistant with preview function makes the import process easier
New modern, uniform design
Editing with video monitor zoom and trackers outside of the image area
Full support for stereoscopic recordings
Full import functions for many 3D camera models
Editing of own 3D recordings made, for example, with two cameras
Real 3D fades and titles for 3D video projects
Preview and output to all conventional 3D display devices
Output in all formats (DVD, Blu-ray, as file, on YouTube etc)
BONUS! Includes 3D glasses
Price & Availability:
MAGIX Movie Edit Pro 17 is available and Movie Edit Pro 17 Plus are available now for SRP £59.99 and £79.99 inc VAT from Amazon and PC World.