Ken Follet's mini-series The Pillars of The Earth hits DVD in November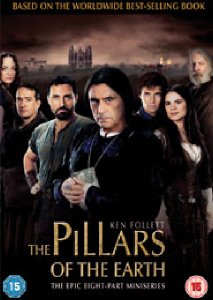 THE PILLARS OF
THE EARTH
Starring Ian McShane, Donald Sutherland, Matthew Macfadyen and Rufus Sewell
Based on Ken Follett's Worldwide Best-Selling Novel, The Eight-part Miniseries Event Arrives on DVD November 22nd
London
, UK
. 14/10/10
- On November 22nd, Sony Pictures Home Entertainment brings one of the major television events of the year to DVD.
The Pillars of The Earth,
the eight-part Starz miniseries, is an enduring love story masterfully entwined with political turmoil, set against a backdrop of war, religious strife and power struggles in 12th century England. Based on Ken Follett's worldwide best-selling novel,
The Pillars of The Earth
boasts an all-star cast that includes: Ian McShane (TV's "Deadwood,"
Sexy Beast
), Rufus Sewell (
The Holiday
), Matthew Macfadyen (
Robin Hood
), Eddie Redmayne (
The Good Shepherd
), Hayley Atwell (
The Duchess
), Sarah Parish (
Merlin
), Natalia Worner, Tony Curran (TV's "24"), Donald Sutherland (
The Italian Job
) and Alison Pill (
Milk
).
The Pillars of the Earth
is directed by three-time DGA award-winner Sergio Mimica-Gezzan (TV's "Heroes) and executive produced by Ridley Scott, Tony Scott, David Rosemont, Jonas Bauer, Tim Halkin, Michael Prupas, David W. Zucker, and Rola Bauer. Ken Follett's book, first published in 1989, has sold more than 14 million copies worldwide and has been published in more than 30 languages. The three-disc DVD set includes three all-new featurettes and will be available for £29.99 RRP.
Synopsis
Ken Follett's best-selling novel is brought to life in a star-studded and critically-acclaimed eight-part miniseries. Emerging from the war-torn shadows of England's Dark Ages, an idealistic mason, Tom Builder (Sewell) sets out on a quest of erecting a glorious Cathedral bathed in light. But when that light threatens to illuminate the dark secrets of ambitious Bishop Waleran Bigod (McShane) and the battling progeny of King Henry, Queen Maud (Pill) and King Stephen (Curran), they'll stop at nothing to keep those secrets safe! The epic miniseries event also stars Matthew MacFadyen as Prior Philip, Hayley Atwell as the beautiful noblewoman Aliena and Donald Sutherland as Bartholomew.
Bonus Features Include All-New Featurettes:
The Making of The Pillars of the Earth

Visual Effects Progression

Main Titles Progression
The Pillars of the Earth
has a run time of approximately 428 minutes and is rated 15.
Visit Sony Pictures Home Entertainment on the Web at
www.SonyPictures.com
.
PRODUCT INFORMATION
TITLE
The Pillars of the Earth
Release Date
22 November, 2010
Format
Retail DVD
RRP
£29.99
Certificate
15
Genre
TV / Historical Drama
Running Time
428 minutes