Tyson: Unleashed documentary arrives in November on DVD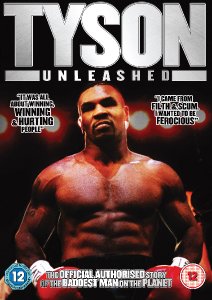 TYSON: Unleashed
The Official DVD Documentary
THIS OFFICIALLY AUTHORISED DVD OFFERS THE ONLY INDEPTH DOCUMENTARY OF THE SELF PROCLAIMED BADDEST MAN ON THE PLANET IN HIS OWN WORDS
DVD Released:
8th November 2010
Distributor:
Clarity One
TYSON: Unleashed is the official authorised story of the world conquering baddest man on the planet 'Iron' Mike Tyson. Offering a never before seen insight into the legends remarkable rise from Brooklyn New York to the glittering heights of becoming the world's youngest Heavyweight Champion, Tyson: Unleashed is the one off authorised story in 'Iron' Mikes own words.
Controversial, Brutal and Intriguing. For the first time the legendary explosive heavyweight boxing champion Iron Mike talks live about his outrageously successful and destructive life. From the gutters of Brooklyn, New York to the Baddest Man on the Planet Tyson enlightens us all in this unique one off live environment. Ear biting, Prison and Bankruptcy; you've heard the stories, now hear it from 'The Baby Bull' himself.
The DVD offers an intriguing, heart warming documentary on Tyson's ferocious rise and fall from grace; including his early life problems where he states that 'I ruined a lot of people's lives for my own pleasure', to his glittering career as the undisputed heavyweight champion
'It wasn't fair for the other fighters - they didn't know what hit them...'.
Unleashed is the ultimate insight into this complex and unique superstar of the sporting world.
This hour long documentary is essential for any sports fan looking for an in-depth focus on one of the world's most famous and most talented men. From boxing to prison to acting, Tyson has done it all and Unleashed is his latest outlet in this outstanding in-depth documentary.
'Fighting is not about winning - it's about losing and overcoming loss...'
Tyson: Unleashed is the ultimate boxing DVD and the ideal gift this Christmas for boxing and sports fans alike.