Japanese masterpiece Battle Royale released on Blu-ray in December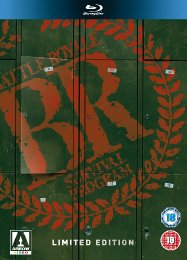 ONE DEAD. 41 TO GO.
Battle Royale is back. It's time to return to the island and kill your friends, because the cult Japanese movie that defines twisted action and sickening violence is ready to shock you all over again.
In a world where teenagers have no respect and adults are losing control there can be only one solution: Battle Royale! Now, see what happens when you let a high school class loose on an island, arm them and then give them a simple choice... Kill your friends or have them kill you; with poison, cross-bows, machetes and dynamite. 'Beat' Takeshi Kitano (Violent Cop, Zatoichi) is a teacher pushed to the edge by his unruly charges. Kidnapped and gassed, his class wake up with exploding metal rings around their necks. If they rebel, they could lose their heads. Now they have three days and only one is permitted to survive this grisly battle to the death.
Directed by the master of 70s Yakuza thrillers Kinji Fukasaku and featuring Kill Bill star Chiaki Kuriyama, Battle Royale is the movie that helped to define extreme Asian cinema in the 21st Century.
3 DISC LIMITED EDITION SET FEATURES:
- BRAND NEW RESTORED TRANSFER IN GLORIOUS HIGH DEFINITION 1080P OF BOTH FILMS
- BRAND NEW SUBTITLE TRANSLATION ON BOTH FEATURES
- LIMITED EDITION PACKAGING NUMBERED #/5000 WITH CERTIFICATE
- LIMITED EDITION EXCLUSIVE SPECIAL FEATURES
DISC 1 - THEATRICAL CUT: SPECIAL FEATURES - ORIGINAL THEATRICAL TRAILER
- THE MAKING OF BATTLE ROYALE: THE EXPERIENCE OF 42 HIGH SCHOOL STUDENTS
- CONDUCTING BATTLE ROYALE WITH THE WARSAW NATIONAL PHILHARMONIC ORCHESTRA
DISC 2 - SPECIAL EDITION [DIRECTOR'S CUT]: SPECIAL FEATURES
- SPECIAL EDITION TRAILER
- TV SPOT: TARANTINO VERSION
- SHOOTING THE SPECIAL EDITION
- TAKESHI KITANO INTERVIEW
- THE CORRECT WAY TO MAKE BATTLE ROYALE [BIRTHDAY VERION]
- TOKYO INTERNATIONAL FILM FESTIVAL PRESENTATION
DISC 3 - SPECIAL FEATURES
- OPENING DAY AT MARU NO UCHI TOEI MOVIE THEATRE
- THE SLAUGHTER OF 42 HIGH SCHOOL STUDENTS
- PREMIERE PRESS CONFERENCE
- THE CORRECT WAY TO FIGHT IN BATTLE ROYALE
- ROYALE REHEARSALS
- MASAMICHI AMANO CONDUCTS BATTLE ROYALE
- SPECIAL EFFECTS COMPARISON
- BEHIND THE SCENES FEATURETTE
- FILMING ON SET
- TV SPOTS, PROMOS AND COMMERCIALS
- KINJI FUKASAKU TRAILER REEL
32 PAGE COMIC
36 PAGE BOOKLET INCLUDING:
- 'A BATTLE WITHOUT AN END' BY TOM MES, AUTHOR OF 'THE MIDNIGHT EYE GUIDE TO NEW JAPANESE FILM'
- PRINTED INTERVIEW WITH DIRECTOR KINJI FUKASAKU
- 'TODAY'S LESSON IS... YOU KILL EACH OTHER' BY JAY MCROY, AUTHOR OF 'JAPANESE HORROR CINEMA' [LE EXCLUSIVE]
- EXTRACT FROM KOUSHUN TAKAMI'S ORIGINAL NOVEL [LE EXCLUSIVE]
- ORIGINAL PROMOTIONAL MATERIAL INCLUDING DIRECTOR'S STATEMENT, CAST AND CREW BIOGS [LE EXCLUSIVE]
16 PAGE BOOKLET INCLUDING:
- CONCEPT ARTWORK AND DRAWINGS FOR THE LIMITED EDITION SET [LE EXCLUSIVE]
5X7" POSTCARDS OF STILLS FROM THE FILM [LE EXCLUSIVE]
FOLD-OUT REVERSIBLE POSTER OF ORIGINAL ARTWORK
For all information and updates, go to the
Cult Labs forums
to see the artwork as it becomes available.