The final season of 24 arrives on Blu-ray and DVD this November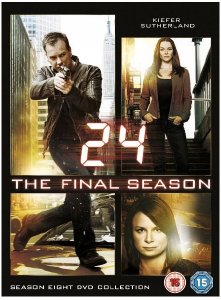 24: THE FINAL DAY
24 SEASON 8 RELEASED ON DVD & BLU-RAY 8/11/10
The final season of the ground-breaking television phenomenon is available to own when
24 Season 8
is released on DVD and Blu-ray
on 8th November 2010
from
20th Century Fox Home Entertainment
. One of the most seminal television events of the 21st Century, 24 is multi-award winning and has been nominated for a total of 68 Emmy Awards.
Set in New York City eighteen months after the end of Season 7, Day 8 follows former agent Jack Bauer (Golden Globe® and Emmy® winner
Kiefer Sutherland
) as he is persuaded back to CTU to investigate a plot to assassinate a Middle Eastern leader.
When Omar Hassan (
Anil Kapoor
; Slumdog Millionaire), President of the IRK (Islamic Republic of Kamistan) visits New York to conduct peace talks with US President Allison Taylor (
Cherry Jones
), his actions incur the wrath of Kamistani terrorists. Resentful of America and frustrated with Hassan's plans to halt the IRK's development of nuclear weapons, they plan to first assassinate Hassan and then strike America directly with the secret aid of the Russian mob.
Packed with all the nail biting tension, twists and turns and explosive action that fans of the show have come to expect, Season 8 is edge of your seat action throughout. As the plot thickens, Jack discovers corruption and cover-ups that could have consequences not only for the USA and IRK, but send shockwaves throughout the World. Can Jack save the day again, or will his desire for revenge and retribution finally get the better of him?
Season 8 sees the return of Jack's love interest, agent Renee Walker
(Annie Wersching)
as well as longstanding cast member Chloe O'Brian
(Mary Lynn Rajskub).
New characters are also introduced; CTU Head, Brian Hastings
(Mykelti Williamson),
Systems Analyst Arlo Glass
(John Boyd),
Data Analyst Dana Walsh
(Katie Sackhoff)
and Cole Ortiz
(Freddie Prinze Jr),
an ex-Marine who leads field operations.
Packed full of special features on each disc including deleted and extended scenes, 24 Season 8 also contains a 'special feature clip' of never-before-seen footage that follows what happens to Chloe after the final episode's climax.
As Bauer bows out, for now at least, 24 Day 8 is the must-have DVD for action addicts this November.
- ends -
DVD & Blu-ray Details:
Release date: Monday 8th November 2010
Running Time: 24 episodes
Distributor: Twentieth Century Fox Home Entertainment
DVD RRP: £49.99 (6 discs)
Blu-ray RRP: £59.99 (4 discs)
24 Season 1-8 + Redemption Boxset (48 Discs) RRP: £244.99
DVD & Blu-ray Special Features:
· 7 Deleted Scenes
· 21 Scene Maker segments: including behind the scenes footage, production details and more
· 7 Episode Extenders
· Featurette: "The Ultimate CTU"
· Featurette: "Virtually New York"
· Special Feature Clip: "Chloe's Arrest"
DVD Bonus disc:
· Featurette: "Comic-Con Panel 2009"
· Featurette: "Eight Days"