Scooby Doo in Camp Scare out on DVD for Halloween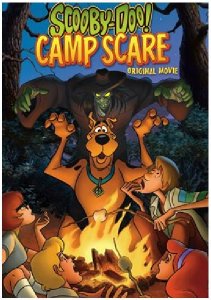 SCOOBY-DOO! CAMP SCARE
THE
ALL NEW ORIGINAL ANIMATED MOVIE
AVAILABLE FOR HALLOWEEN!
ON DVD FROM 11TH OCTOBER 2010
The creepiest campfire ghost stories come to life on the all new, must have, animated
Scooby-Doo
original movie
Scooby-Doo! Camp Scare
. Viewers will want to join in the high-jinks with the lovable Great Dane and the rest of the Mystery Inc. gang as they explore mysterious goings on at a haunted summer camp.
Scooby-Doo! Camp Scare
is available on DVD from
11th October 2010
courtesy of Warner Home Video.
Roast your marshmallows and hide under your sleeping bag covers, because this campfire experience is going to get spooky! In this brand new adventure,
Scooby-Doo
and the gang head out in the Mystery Machine to visit Fred's favorite childhood camp. They soon learn that creepy creatures from their favourite campfire stories have come to life and now haunt the nearby woods and lake, threatening to shut down the camp once and for all. Will our heroes; Scooby-Doo, Shaggy, Fred, Daphne and Velma manage to end all the spooky occurrences and stop the creatures before the camp is forced to close its doors forever?
Scooby-Doo,
the hit franchise follows the adventures of Daphne, Fred, Shaggy, Velma and Scooby-Doo as they travel in their van "The Mystery Machine" and solve cases typically involving ghosts, monsters or other supernatural forces. High-jinks always ensue, with their investigations resulting in entertaining chase scenes mixed with catchy musical numbers and hilarious antics. The original television program went on to become one of the most successful animated shows in history and spawned several spin-off series, specials, consumer products and live action films.
Release Information:
Release Date: 11th October 2010
Format: DVD
Credit: Warner Home Video
Genre: Children's Animation
Cert: U
RRP: £15.99
Retail Cat Number: TBC
Barcode: TBC
About Warner Bros. Animation
Warner Bros. Animation has been producing award-winning original animation since 1930, when it released its first cartoon, "Sinkin' in the Bathtub." Since then, Warner Bros. Animation's characters have set the standard for innovative, quality animation.
Producing for network and cable television, online, home entertainment and feature films both domestically and internationally, Warner Bros. Animation is highly respected for its creative and technical excellence, as well as maintaining the studio's rich cartoon
heritage. Warner Bros. Animation also oversees the creative use of, and production of animated programming based on classic animated characters from the Hanna-Barbera and DC Comics libraries. Warner Bros. Animation is one of the most honored animation studios in history, garnering a grand total of six Academy Awards®, 35 Emmy® Awards, the George Foster Peabody Award, an Environmental Media Award, a Parents' Choice Award, a Humanitas Award, two Prism Awards and 20 Annie Awards (honoring excellence in animation).
About Warner Home Video
With operations in 90 international territories, Warner Home Video, a Warner Bros. Entertainment Company, a division of the
Warner Bros. Home Entertainment Group
, commands the largest distribution infrastructure in the global video marketplace. Warner Home Video's film library is the largest of any studio, offering top quality new and vintage titles from the repertoires of Warner Bros. Pictures, Turner Entertainment, Castle Rock Entertainment, HBO Home Video and New Line Home Entertainment.
About Warner Bros. Home Entertainment Group
Warner Bros. Home Entertainment Group brings together Warner Bros. Entertainment's home video, digital distribution, interactive entertainment/videogames, direct-to-DVD production, technical operations and anti-piracy businesses in order to maximize current and next-generation distribution scenarios. WBHEG is responsible for the global distribution of content through DVD, electronic sell-through and VOD, and delivery of theatrical content to wireless and online channels, and is also a significant worldwide publisher for both internal and third party videogame titles.