Action horror Black Death hits DVD and Blu-ray this October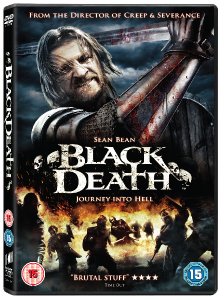 "Brutal stuff" * * * * Time Out
"Spooky, grim, impressive" * * * * The Telegraph
* * * * The Guardian
Black Death
Journey into Hell on Blu-ray and DVD on October 18
London
, UK
. 28/7/10
-
Journey into hell with
Black Death
when it arrives on Blu-ray and DVD on October 18, courtesy of Sony Pictures Home Entertainment.
From director Christopher Smith (
Triangle, Severance
) and with an all star cast that includes Sean Bean (
Lord of the Rings
), Carice Van Houten (
Valkeyrie
), Eddie Redmayne (
Elizabeth - Golden Age
), David Warner (
Planet of the Apes
) and Tim McInnerny (
Severance
),
Black Death
is an action packed odyssey into evil.
Both the Blu-ray and DVD contain special features, including the
"Bringing Black Death to Life"
featurette. The Blu-ray is packed with hours of exclusive features including director's commentary, interviews with cast and crew, behind the scenes footage and a photo gallery.
Black Death
will be available on Blu-ray for RRP
£22.99 and on DVD for RRP £15.99.
SYNOPSIS
Medieval England has fallen under the shadow of the Black Death. In this apocalyptic world, filled with fear and suspicion, a young monk called Osmund (Eddie Redmayne) is charged with leading a fearsome knight, Ulric (Sean Bean) and his group of mercenaries to a remote marsh. Their quest is to hunt down a necromancer - someone who is able to bring the dead back to life. The dangers that they face as they set out are nothing compared to the horror that awaits them at their journey's end…
SPECIAL FEATURES
DVD
Bringing Black Death to Life Featurette
Original Theatrical Trailer
Blu-ray Only
Bringing Black Death to Life Featurette
Original Theatrical Trailer
Commentary with director Christopher Smith
Deleted Scenes (with optional commentary)
Behind The Scenes Footage
Photo Gallery
Interviews with Cast & Crew
Interviews with director Christopher Smith
Interview with producer Jens Meurer
Interview with producer Phil Robertson
Interview with Sean Bean
Black Death
has a run time of approximately 101 minutes (Blu-ray) and 97 minutes (DVD). The movie is rated 15.
Visit Sony Pictures Home Entertainment on the Web at
www.sonypictures.com
PRODUCT INFORMATION
TITLE
Black Death
Release Date
18 October, 2010
Format
Retail Blu-ray, Rental Blu-ray, Retail DVD, Rental DVD
RRP
Blu-ray: £22.99, DVD: £15.99
Certificate
15
Genre
Action / Horror
Running Time 
BD - 101 mins (approx), DVD - 97 mins (approx)