Anime Review Roundup
The Anime All-Nighter Is Back At Oktoberfest… Times Two
The 16th of October sees the return of Oktoberfest to Sci-fi London, that annual appreciation of all things sci-fi, horror and anime. This year there will be two Anime All-Nighters to choose from, a little something extra for fans down south, the same weekend when Scotland is busy loving anime.
The first offers Nausicaa of the Valley of the Wind, The Cat Returns, and all 11 episodes of the Eden of the East series, in beautiful high definition. And read more about it
here
.
The Ghibli All-Nighter lets you watch Spirited Away, Nausicaa of the Valley of the Wind, The Cat Returns, and Howl's Moving Castle. Details can be found
here
.
Also, earlier that day, there will be the UK premiere of the latest, live action adaptation of
The Girl Who Leapt Through Time
, which a few years ago was turned into an amazing anime film by Mamoru Hosoda.
You can book tickets at this
site
.
News sourced from
Anime UK News
.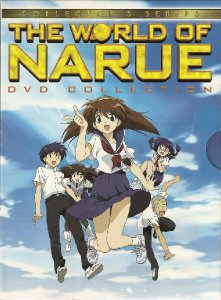 Just the one anime review last week, but considering that it was a whole series, I'm still pretty satisfied with myself. I had to put on my importing boots for
The World Of Narue
though, as while it was released in the UK by ILC a few years ago, they did so by stripping out the extras, the Japanese dialogue, the subtitles, and by cramming it onto as few discs as possible. The US version got a rather more appetising luxury release, it had the bare minimum that anime requires, bilingual, and with translated subtitles, but it also got more than its fair share of extra features, and some quite pleasant packaging. The show itself isn't exactly groundbreaking, with the 'hapless teen falling in love with an alien girl' scenario far too reminiscent of shows like Ah My Goddess and Tenchi Muyo. But The World of Narue's take on its characters is different enough to make it worthy of consideration. See just how different it actually is by clicking on my review.
Central Park Media released The World of Narue in the US, but they have gone the way of the dodo. Their deluxe collection is still available in some quarters though. Failing that, Section 23 have since picked up the licence for The World of Narue and have re-released the show in rather more prosaic packaging. The disc contents are unchanged though.