Get rollin, rollin, rollin with Rawhide Season 1 out in November on DVD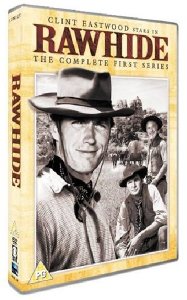 RAWHIDE - THE COMPLETE SERIES ONE
Get rollin' rollin' rollin' with Oscar®-winner Clint Eastwood in the trail-blazing western series that jump-started his illustrious movie career!
Out on DVD for the very first time in the UK on 15 November 2010
ON DVD FOR THE FIRST TIME - 51 YEARS AFTER ITS ORIGINAL BROADCAST
This 6 disc set contains all 22 episodes from Series One, plus a bonus episode from Series Two, to get you back in the saddle with everybody's favourite cowhand, Rowdy Yates; his tough-minded trail boss, Gil Favor (Eric Fleming) and a whole herd of legendary guest stars.
With villains who will rob you and heroes who will steal your heart, the wild west has never been so much fun!
Catalogue Number PAR61540 | RRP £34.99 | Number Of Discs 6