Harry Hill's TV Burp Gold 3 hits DVD this November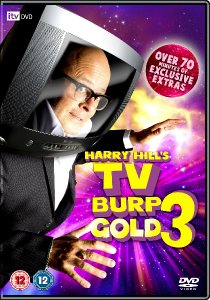 Harry Hill's TV Burp Gold 3
is a brand-new DVD packed full of the best bits from the multi
BAFTA
-winning
TV Burp
. Available to own from 1st November 2010, the disc features classic clips from the Burp archives, with many of HARRY's most memorable skits, gags and madcap flights of fancy, not to mention a host of exclusive DVD extras.
Brace yourselves for vintage funnies from the Burp vaults including breakdancing flies on
Grimefighters
, Sally's surprise at Kevin's piles on
Coronation Street
, and 'Prince Charles' unexpectedly checking into a hotel with a 'ladyfriend' in
Emmerdale
. There's plenty more for fans to enjoy as HARRY discovers his uncanny resemblance to Gandhi, challenges RUSS ABBOTT to recreate his dramatic performance of a heart attack in
Casualty
, and who can forget the big-collared comedian's rib-tickling take on CHERYL COLE's
X Factor
dance routine!
With other highlights including Knitted Character being rescued from a fire in
Emmerdale
… by a sausage, a vegetable that's a spitting image of
River Cottage
's HUGH FEARNLEY-WHITTINGSTALL, a spooked DEAN GAFFNEY on
Ghost Hunting
, the world's first ever Subo Wrestling competition, and the Most Elaborate Dog Wee of the Week revealed, this trip through Burps past is sure to deliver plenty of belly laughs…
In addition to the main show, viewers will be able to take an exclusive peek 'Behind the Burp', in which HARRY explains how he and the team make the show, and Knitted Simon Cowell, Knitted Cheryl Cole, Knitted Rolando and Knitted Character star in 'The K Factor Story', plus a world exclusive apology from Knitted Tiger Woods!
A busy autumn for HARRY also sees the new series of
TV Burp
kick-off on ITV1 and the release of his new book
Livin' the Dreem
published on 7th October by Faber.
ends.
Harry Hill's TV Burp Gold 3 (cert 12), £19.99, ITV STUDIOS Home Entertainment 2010
(Running times: feature 64 mins, extras 72 mins.
Extras: Unseen Behind the Burp, The K Factor Story & The K Factor Hopefuls)
Release date: 1st November 2009
"There are very few comedy programmes that I simply know will have me howling with laughter. Harry Hill's TV Burp is one of them. It's ITV1's comedy treasure: a supremely funny, silly, sideways, backwards, any way you like, view of TV…This is a comic rarity - a programme that any TV loving family can sit down and watch together."
Alison Graham, Radio Times