The Smurfs and the Magic Flute hits DVD and Blu-ray in October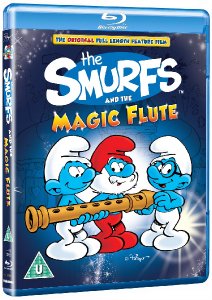 Arrow Films & Fabulous Films are proud to announce
The Smurfs and the Magic Flute
Available for the first time ever on BLU RAY & DVD
from 4th October 2010
The Smurfs are back to enchant you once again in there first original full length feature film
A villain named Oilycreep steals the Smurfs magic flute, an instrument that makes people dance wildly, and uses it to rob them. The King sends out Peewit to track down the thief and retrieve the flute. Now Johan and Peewit must get it back at all costs, so they head to the magical kingdom of Smurfs to ask for their help
.
DVD INFORMATION
Arrow Films / Fabulous Films have secured the Home Entertainment rights to the cult classic 1980's Hanna-Barbera produced Smurfs cartoon series and the original 1976 feature film 'The Smurfs and The Magic Flute'. The original series has never been available before on DVD in the UK. Sony Pictures are currently in production of a $100 million live action/animated feature film that is scheduled for a worldwide theatrical release in July 2011. It is being directed by Raja Gosnell (Scooby Doo, Scooby Doo -Monsters Unleashed, Big Momma's House). The animated characters are being voiced by Katy Perry, Alan Cumming and Hank Azaria amongst others.
BACKGROUND
The Smurfs is a comic and television franchise centered on a fictional group of small blue creatures called Smurfs, created by and first introduced as a series of illustrated
comic strips
by the
Belgian
cartoonist
Pierre Culliford
(also known as
Peyo
) on October 23, 1958. Culliford's initial comic first appeared in the Belgian magazine
Spirou
, and several decades later was adapted into an
English language
children's television series by
Hanna-Barbera Productions
, titled
The Smurfs
.
THE SMURFS AND THE MAGIC FLUTE SYNOPSIS
A villain named Oilycreep steals the Smurfs magic flute, an instrument that makes people dance wildly, and uses it to rob them. The King sends out Peewit to track down the thief and retrieve the flute. Now Johan and Peewit must get it back at all costs, so they head to the magical kingdom of Smurfs to ask for their help.
MAGIC FLUTE BLU RAY & DVD CONTENTS
Original Full Length Feature Film
Animated Menus
Stills Gallery
Page of Smurf Information
Character Guide
Glossary of Smurf Terms
MAGIC FLUTE DVD SPECIFICATIONS
Running time: 70mins
Barcode: 5030697018670
Catalogue No: FHED2762
Certificate: U
RRP Price: £15.99
MAGIC FLUTE BLU RAY SPECIFICATIONS
Running time: 70mins
Barcode: 5030697019288
Catalogue No: FHEB2782
Certificate: U
RRP Price: £19.99
The Smurfs And The Magic Flute
is distributed by Arrow Films & Fabulous Films and is available from all good DVD stockists from 4th October 2010.