New Laplink PCmover - The Only Utility that Moves Programs, Files and Settings!
Simple, fast transfer of data from one PC to another.
Laplink Software, Inc. has launched PCmover Ultimate. PCmover is the only software that moves programs, files and setting from an old PC to a new PC.
PCmover provides the easiest and quickest solution for moving applications, games, settings and data from one PC to another. It can also conduct an in-place upgrade of an existing PC to Windows® 7 and restore the image of an old Windows PC (or hard drive) to a new PC without overwriting the new operating system.
PCmover connects to the PCs using a network, Laplink USB 2.0, Laplink High-Speed Transfer cable or any type of removable media that can be read by both PCs. The easy-to-use wizard helps users set up the transfer within ten minutes, while the multiple user transfer option can be used to move all user profiles in a single migration. Intel-based Mac® users running Apple® Boot Camp, Parallels Desktop or VMware Fusion for Mac can also use PCmover to transfer files, settings and applications from their old PC to their new Mac.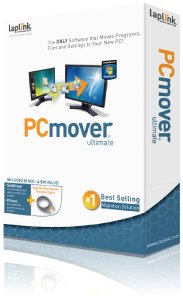 Windows 7 Upgrade Assistant™ will help users conduct an in-place upgrade from Windows XP to Windows 7. With PCmover, the upgrade can be completed in three easy steps, without the need to copy files to external media or reinstall all the applications.
PCmover Image Assistant™ is breakthrough software that complements any imaging solution available on the market today. With Image Assistant, users can restore old Windows images or the contents of an actual hard drive to a new PC without overwriting anything on the new PC, including the operating system. PCmover is the only software with this capability.
Along with the Windows 7 Upgrade Assistant and Image Assistant functionality, PCmover features complete selectivity over what programs, files and settings are transferred or restored and quickly reverses changes made to the new PC with an easy undo feature. Users also won't have to stay with the PC during the move. After the transfer begins users can walk away while PCmover does the rest. PCmover makes moving to anew PC, upgrading an existing PC or restoring the contents of a Windows imageor hard drive hassle free.
PCmover is designed for users wanting to transfer data from one PC to another, as well as users who want to upgrade their old systems to Windows 7. You can upgrade to Windows 7 from almost any old version of Windows and an upgrade from a 32-bit to a 64-bit operating system is also possible.
PCmover also comes with Laplink SafeErase™ and Laplink PCsync®. SafeErase helps users keep confidential data from falling into the wrong hands by completely deleting personal files. PCsync is the quickest and easiest way to keep files and folders in sync between multiple computers. The software also comes with a Laplink High-Speed Transfer Cable.
PCmover is truly the only software of its kind. Some products transfer files but not programs. Other products transfer the entire PC into a "Virtual Machine" (VM) on the new PC, a time-consuming and complicated process that still uses the old operating system, meaning the user hasn't completely moved to the new PC. And, to legally use the old operating system in the VM often requires buying an additional windows license, forcing users to spend more money or cause them to use their licenses illegally. PCmover solves all of these problems.